There is nothing like a good mystery.
While My Pretty One Knits is not exactly what I would call a good mystery. The murderer's identity was obvious before the close of the first chapter. The village of Plum Harbor unequivocally fails to process – or even react much to — the brutal murder of one of their fellow villagers (it was brutal! And, as the book itself repeatedly reminds us, it was bloody!). There are enough knitting inaccuracies that unravel long enough to purl a swoncho. The knitting group doesn't so much solve a murder so much as they stumble around talking about the murder, and incidentally and coincidentally facilitate the solving of the crime. And, as my fiancée put it with nothing but fondness, our dear anxious protagonist Lucy is "a bit touched in the head."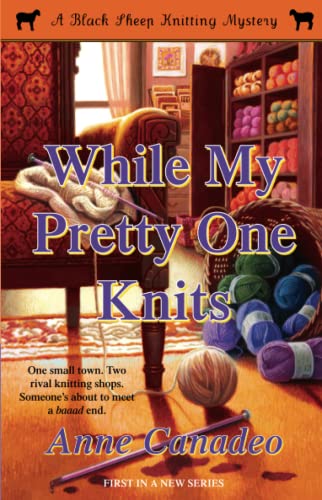 Yet I finished the book feeling…well, cozy.
There were no high stakes (ignoring the fact that, had the murder gone unsolved, a cold-blooded killer would have gotten off scot-free). There was a dog (who did more work to solve the case than her human caretaker). There was knitting and humor. It was the cross between Hallmark and Lifetime that I've been seeking, even if the needles pointed more towards Hallmark. And it was, simply, fun.
Our core cast of characters include Maggie, the shop owner; Lucy, the newly divorced graphic designer; Dana, the psychologist; Suzanne, the real estate agent and mother; and Phoebe, the college student. There are many more characters, which helps the village feel populated, although in audiobook format it was difficult to keep everyone straight, and I eventually stopped trying. Familiarity will hopefully come with time.
I don't hold out much hope that, as I continue the series, the ridiculously high statistics for murder per capita in Plum Harbor will be cause for concern. Luckily, the group has Suzanne. When the population dips down too low to support the village economy, they'll have a head start on packing up and moving out.
I am, however, optimistic that the knitters of The Black Sheep will learn and change and grow. That's what I'm interested in. And, I realize, as I frog back my snobbery; that's what all cozy mystery aficionados are interested in. That's what the writer is interested in. It was never about the mystery — it was about the characters.
And isn't that warmer than a wool sweater?
Canadeo, Anne. While My Pretty One Knits. Pocket Books, 2009.