It's time for another #ThrowbackThursday from Nebraska Memories!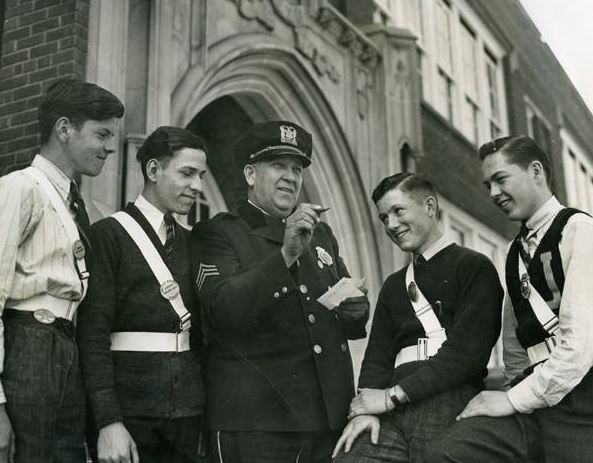 In this week's 9 1/2″ x 7 1/2″ black and white photograph, there are four eighth grade students serving as safety patrol officers. They are gathered outside of Jackson School in Omaha, Nebraska with a police officer.
Safety patrol began in 1924. It was a joint effort between Miss Marie Wetzel, Principal at Farnam Street School, the Police Commissioner, and the Omaha Safety Council. The Omaha Police Department provided training for the student crossing guards and issued badges and identity cards. The program started with seven boys at Farnam and grew to include every elementary school in the district. When Farnam Street School closed in 1926, the students attended the new Jackson School. The safety patrol program was the first of its kind and served as a model for other schools across the country.
This week's image is published and owned by Omaha Public Schools and the Educational Research Library. Historical materials have been located in various departments and school buildings. Many schools still maintain their own collections. In 2003, staff from the Educational Research Library began collecting and organizing these materials in a central location. This collection is a small part of the District's long history.
Check out this collection and many more on the Nebraska Memories archive.
Nebraska Memories is a cooperative project to digitize Nebraska-related historical and cultural heritage materials and make them available to researchers of all ages via the Internet. The Nebraska Memories archive is brought to you by the Nebraska Library Commission. If your institution is interested in participating in Nebraska Memories, see http://nlc.nebraska.gov/nebraskamemories/participation.aspx for more information.