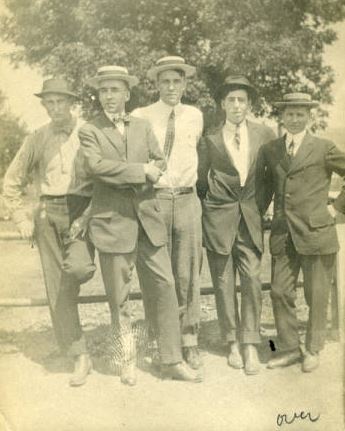 This week, we have a 3″ x 4″ black and white photograph featuring a group of men in a park east of the Union Pacific Depot. Pictured left to right are: Karl Ziuquiten, Pat McMillan, Earl Durwell, Mike McFadden and Frank Uauth.
This image is published and owned by the Cheyenne County Historical Society. The historical photographs in this collection represent the people and places of Sidney, Fort Sidney, Potter, Dalton and other communities. See more from this collection on the Nebraska Memories archive.
Nebraska Memories is a cooperative project to digitize Nebraska-related historical and cultural heritage materials and make them available to researchers of all ages via the Internet. The Nebraska Memories archive is brought to you by the Nebraska Library Commission. If your institution is interested in participating in Nebraska Memories, see http://nlc.nebraska.gov/nebraskamemories/participation.aspx for more information.