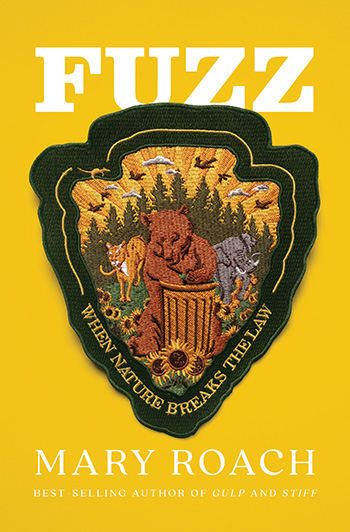 Do you ever go outside? Are you going to have to make small talk sometime in the near future? Do you have any curiosity about the natural world? Then Fuzz: When Nature Breaks the Law, by Mary Roach, is the book for you.
Of course, the law in question here is human law, and you can be sure that plants, animals and birds don't really care about breaking these laws. (Which recalls the story Roach tells us, of the person complaining about the placement of a deer crossing sign on a busy stretch of road—wondering why the local authorities were encouraging deer to cross there.) This book is about how humans react and adapt to nature's lawbreakers—and how we try to get nature to adapt to us. With varying degrees of success.
You'll read about bears getting really clever about getting to human food (like opening refrigerators and moving egg cartons, without breaking eggs, to get to the good stuff behind them). There's also the Australian army's losing battle against farm-foraging emus. Do you have a guess what creature the FAA says is the most dangerous to aircraft? Chances are that you're wrong, but this book will explain it. You'll find out why scarecrows don't work and why macaques will pickpocket your cell phone. (It's because they know you will bribe them with food to get it back. Roach purposely gets mugged by a monkey to make sure.)
Mary Roach writes popular science texts on a variety of subjects, and she does hands-on, in-person research and interviews with colorful characters and experts in the field of the book topic. In this book, she rides along with scientists who point out eagle nests and hand her badger droppings, among other activities. She relates to and sympathizes with the real people she uses as resources for her books, understanding where they are at in the big picture she is trying to paint for the reader. She handles their human concerns with grace and respect. And she has a healthy respect for every other creature we humans share the natural world with. All of these stories are interjected with many humorous observations–and plenty of anecdotes to amaze your family and friends.
I'm listening to the audiobook on CD in my car as I commute and run errands. There are some things I appreciate about this audiobook and some things I don't like as much. The author reads the book, and she does a great job. Her vocal delivery is clear, and personable, and a good choice for a book so full of one-liners that another narrator might not realize are supposed to be funny. I didn't like that the audio tracks were over twenty minutes long. Sometimes I wanted to rewind and hear a part again, which is not unusual for a book I'm listening to while I'm driving, especially in a book so dense with facts and information. While it would be easy to rewind within tracks on a digital audio book, it's not as easy to rewind within tracks on a CD heard on a car stereo. I do realize most audiobook listening isn't happening on car stereo CD players these days.
(I also checked the print book out of the library so I could check some facts against my memory of what I heard. Isn't it great to be able to get both formats from my public library? Yes, yes it is.)
Roach, M. (2021). Fuzz: When nature breaks the law.