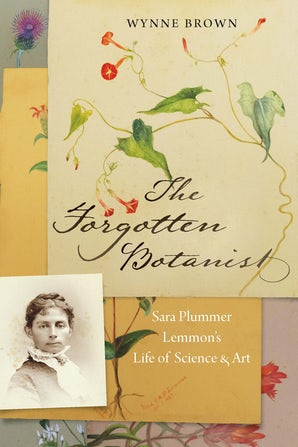 Every once in awhile, a book comes along that, even though it is non-fiction, is so well written that it reads like a novel. The Forgotten Botanist : Sara Plummer Lemmon's Life of Science and Art, by Wynne Brown, is just such a book. I was drawn in immediately by Ms. Brown's eye for detail and well written narrative of Sara Plummer Lemmon's life, loves, and scientific contributions to the field of botany.
The Forgotten Botanist is the story of an extraordinary woman who, in 1870, was driven by ill health to leave the East Coast for a new life in the West—alone. At thirty-three, Sara Plummer relocated to Santa Barbara, where she established the town's first library and taught herself botany. Ten years later she married botanist John Gill Lemmon, and together the two discovered hundreds of new plant species, many of them illustrated by Sara, an accomplished artist. Although she became an acknowledged botanical expert and lecturer, Sara's considerable contributions to scientific knowledge were credited merely as "J.G. Lemmon & wife."
The Forgotten Botanist chronicles Sara's remarkable life, in which she and JG found new plant species in Arizona, California, Oregon, and Mexico and traveled throughout the Southwest with such friends as John Muir and Clara Barton. Sara also found time to work as a journalist and as an activist in women's suffrage and forest conservation.
The Forgotten Botanist is a timeless tale about a woman who discovered who she was by leaving everything behind. Her inspiring story is one of resilience, determination, and courage—and is as relevant to our nation today as it was in her own time.
*Courtesy of University of Nebraska Press