Jolabokaflod, or "Christmas Book Flood" in English, is the Icelandic tradition of giving books on Christmas Eve and reading into the night. Here are two books I am gifting my friends Vern and Jon for their Christmas Eve reading.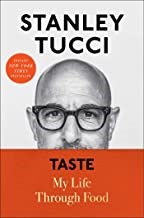 Vern was born the same day and year as Stanley Tucci and honestly, there are some passages in Taste that make me believe there could be something to birthday twins being similar. Vern's husband Jon is a huge Foo Fighters fan, and all the press Dave Grohl's book, The Storyteller, received made me curious to learn more about this musician's life. I think it is helpful (mandatory?) to read a book before you gift it because giving books can be a burden to the recipient — if you don't believe in the book, why should they? I'm pretty certain I have a sure thing with both titles.
For those who aren't familiar with Stanley Tucci, he became an internet sensation this past spring for his viral instructional video on mixing a negroni which is, incidentally, the very first recipe in his book. The recipe concludes with the following instructions: sit down, drink it, declaring, "the sun is now in your stomach." Tucci's book is a memoir through the lens of food. There are chapters on his Italian parents and their traditions; the family's year spent living in Italy; restaurants and life in New York as a young actor; food on several film sets and locations; food with his wife, Kate; life in London with his wife, Felicity; and surviving tongue cancer. This book also complements the CNN Series Stanley Tucci: Searching for Italy, which aired earlier this year and is still available for viewing on demand if you missed it the first time around. And good news, there is confirmation of season two!
I devoured this book, and knowing I would be sharing it with Vern I consumed it with anticipatory glee, imagining his reactions. And even though I listened to Tucci narrate the audio edition of his book, I used post it notes to mark certain passages in Vern's print edition that I hoped would stand out. I predict the New York chapter and the Meryl Streep Julie and Julia chapter will be favorites. I read a review of this audiobook that said "listening to this memoir is not a completely successful experience," but in my opinion that reviewer is simply wrong. While it's nice to have the recipes in print, listening to Tucci speak Italian and curse makes the audio preferable to me. During the pandemic, armchair travel was all many of us could do, and if Italy is on your list? Get Tucci's book, watch his series, boil some pasta, and you'll be halfway to celebrating la dolce vita!
As a former musician, I found Grohl's process of coming to music as a vocation fascinating. Like the Beatles and my personal favorite, James Taylor, Grohl never learned to read music. Dave taught himself to play by fastidiously listening to music and literally making the drum sounds with his teeth, leading his dentist to wonder what caused his early dental deterioration. Because he couldn't rely on written music, there was a memorization that made the music a part of him. He does admit to taking one drum lesson where he was told he was holding his sticks wrong, but that was his only formal education. Grohl also described how he experienced music through synesthesia – a process when hearing music makes you see shapes or smell something specific. It is, quite literally, "a neurological condition in which information meant to stimulate one of your senses stimulates several of your senses."
The relationship between Dave and his mom is also one to cherish. Her counsel and support to a son who was danger prone (a frequent visitor to the ER) and not driven to scholarly success was affirming to read, especially knowing that it all worked out in the end. As a single mom, he describes her as his best friend. This famous relationship is documented in a book written by Virginia Grohl: From Cradle to Stage: Stories from the Mothers Who Rocked and Raised Rock Stars .
After reading several memoirs and biographies, I have to comment that Dave's attention to his relationships lacks details. Describing a particular recording session, he mentions his marriage was falling apart, and unless I missed it there was no prior mention of a marriage. He begins another paragraph with a phone conversation to his mom by saying, "Mom, we're having a girl." It's possible wives past and present wanted little mention in the book or maybe that's just the way Dave rolls. The overall takeaway for me is that Dave is driven and deeply introspective in a way that has served him well. I admired his ability to make and maintain friends throughout his life and his tenacious optimism.
And – if you're wondering what my neighbor Mary is reading? Once I found the very first book in the Mitford Series in her book stacks, she was completely engaged with these characters and the North Carolina setting. She read all of the books in a couple of months. She followed the series by reading the Stanley Tucci book I loaned her and has now started on the Louise Penny Inspector Gamach series. I gave her a copy of Rosamund Pilcher's Winter Solstice for her birthday in October and we read it together for the holiday, a book that I learned she had purchased years ago and I located recently, tucked away in her collection. I only brought back to her what she had already found but had forgotten about. Happy Jolabokaflod everyone!