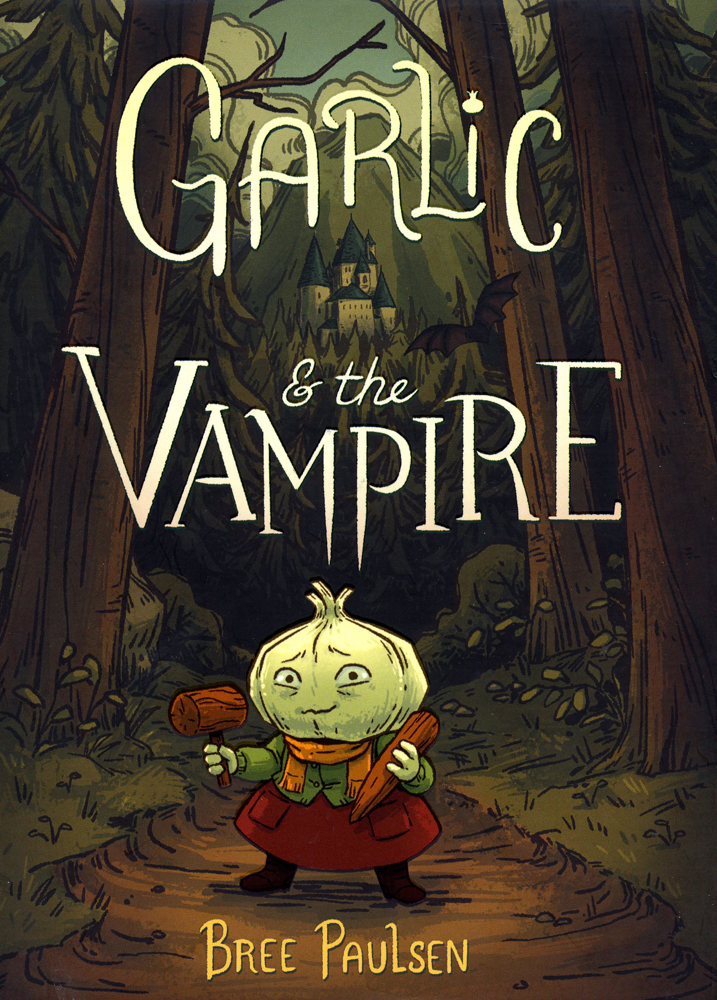 Since it is nearly Halloween, it seems appropriate to discuss a title that includes a vampire.  This is a full-color graphic novel aimed at the upper elementary school level.  A group of vegetables animated by a witch to help with the gardening and selling of vegetables has reached consciousness – they are aware of what they do and how it helps the townspeople.  The have distinct personalities.
Their peaceful life is completely thrown when Potato notices smoke rising from the formerly abandoned castle across the valley.  Could a vampire have moved in?  All are in a worried state.  At their meeting where they learn it is a vampire, thanks to the magic of the witch, Celery (who is miffed at Garlic) suggests Garlic should deal with him.  It does make sense, vampires are known to be put off by garlic, but this Garlic is a quiet, nonthreatening creature and she trembles at the idea of confronting a vampire.  Still, Garlic puts on a brave face and prepares for the mission.  Readers will delight in the idea that at the last minute the witch assigned Celery to accompany her on the mission.  Celery abandons Garlic at the castle door, immediately heading back home.  Garlic bravely goes in, and finds something quite unexpected.  Staking the vampire will not be necessary. 
(The Nebraska Library Commission receives free copies of children's and young adult books for review from a number of publishers. After review, the books are distributed free, via the Regional Library Systems, to Nebraska school and public libraries.)
Paulsen, Bree. Garlic & the Vampire. Quill Tree Books, 2021.