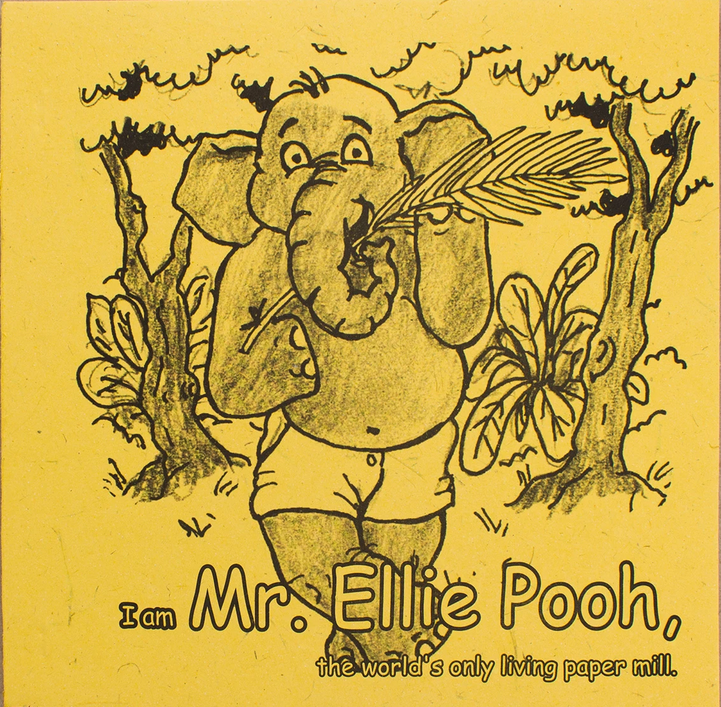 This is the first time I've reviewed a coloring book. But it's made out of elephant dung paper, so I couldn't resist. Turns out when you wash the stinky poo part away from elephant dung, you get raw vegetation. I don't want to know how they found this out.
After boiling the vegetation in a pressure cooker to kill bacteria, the end-result is mixed with post-consumer paper. From here, it's smooth sailing. The paper can be made just like handmade paper: screen, press, and hang to dry. I used to make paper when I was in high school, so I was fascinated by elephant dung paper.
Now kids (and adults!) can color on paper that is 50% fiber from elephant dung and 50% recycled paper. The process was perfected by Dr. Karl Wald and his veterinarian friend on a trip to Sri Lanka. The book tells the story of how the paper is made, and how the book you are holding is saving elephants from angry farmers. You can read the story behind the story on the Mr. Ellie Pooh website. You can also see pictures of the paper-making process and how Mr. Ellie Pooh is creating jobs for local papermakers and artisans in the "About" section.
I got these coloring books for my niece and nephew for Christmas a couple years ago and they loved Mr. Ellie Pooh. Enough to grab Winnie the Pooh and declare, "Pooh is an elephant too!? There can be only one!" Then threw Winnie behind the couch. Poor bear.
At the time, I found the coloring books at Ten Thousand Villages in Lincoln. I'm not sure if they are still there, but they are also sold on the Mr. Ellie Pooh website. Apparently they have a bunch more stuff now too. I didn't see the coloring book on Amazon, but the store does carry some items through Amazon as well. So if you're looking for a new activity in the library, give Pooh a try.
Disclaimer: Pooh paper looks and smells just like regular paper. If I hadn't read the stories and seen the pictures, I would have never known. That's the power of pooh.