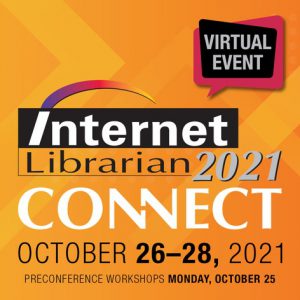 The 2021 Internet Librarian Conference, originally scheduled to be held on October 26th-28th in Monterey, California, is switching to a virtual format. See their online announcement for more information. While this is a disappointment for those who were planning to attend in person, it does open up opportunities for those interested in attending virtually.
The virtual event is scheduled for the same week that the in-person conference was scheduled to be held, and a Virtual Pass for October 26-28, 2021, will provide you with access to all keynotes and main conference sessions, networking, and the virtual exhibit hall. See the Internet Librarian Connect 2021 website for more details.
Nebraska librarians are also still eligible for a discount if they sign up for a Virtual Pass to this conference using the Nebraska Library Commission discount code: 21NLC. The discounted rate for a Virtual Pass is $199. This is a $100 savings of the regular $299 price.
To receive a Virtual Pass discount for Tuesday, October 26th – Thursday, October 28th, 2021:
Go to the Register Now page and click "Attendee."
Complete the form and click "Proceed to Tickets."
Select 1 Virtual Pass ticket and scroll to the bottom of the form.
Type 21NLC in the Promotion Code field and click "Apply."
You should see a pop-up telling you the code has been successfully applied. You should also see that the Virtual Pass price of $299 has been reduced to a total of $199 on your form. At this point you can enter your payment information and click "Checkout."
If you have questions, please contact Susan Knisely.