Ada Limón is an American poet who, along with Richard Siken, Natalie Diaz, and Mary Oliver, is one of my favorite poets. Her poem, "The Leash" – which is not included in this collection – is a poem I reach for like the hand of a trusted friend, after stumbling on the road. I know that it will be there to pull me back onto my feet.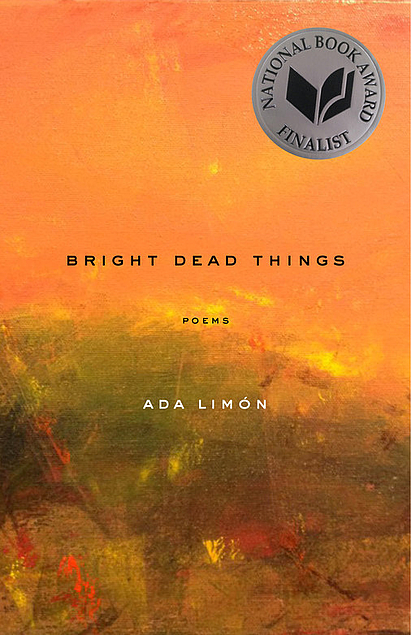 Bright Dead Things, published in 2015, was a National Book Award finalist. It is Limón's fourth collection of poetry. I could stare at its cover all day.
Poetry is a heavy, fluid beast to review and recommend. You cannot trap it, pin it down. Every poem is a kaleidoscope, shifted in image from the time of my witnessing to the moment that I hand it to you. How can I show you a poem and have you see the same poem?
And yet, Limón's collection in Bright Dead Things is about the universal, the human, the everyday: nature, grief. The body, the entropy of the body, life, and the passage of time.
In "State Bird," Limón writes about her move to Kentucky from New York in a way that is so personal that tears sprang to my eyes, because it was exactly how I felt about remaining in Nebraska, despite my original, younger plans to leave for some distant, fresher place. "Confession: I did not want / to live here, / among the goldenrod, / wild onions, / or the dropseed" (58). Peace is made with it; on her part, and on mine. "Sometimes," Limón writes in a later poem, "Oh Please, Let It Be Lightning" (174), "you have to / look around at the life you've made and / sort of nod at it, / like someone moving their / head up and down / to a tune they like." There's a repetition, to use a grief analogy — this collection is, I think, at its heart, about grief — of coming through the stages to acceptance and back again, like the way the wind changes direction.
There's a line that struck me, from "Miracle Fish": "I swear I will play on this blessed earth until I die" (64). Her use of the word play is fantastic, poignant. Not work, not grin and bear it, not survive: I will play. Especially since this collection is saturated (as life is) with grief. With lost family, lost homes, lost friends – lost, sharp as I read this in the ongoing roils of a pandemic, time. Limón takes that grief and rather than shear it from life (as we are wont to do, or want to do) — she says, this is a part of life. This is how it happens. This is a part of what make us alive. Death, loss — it is not an antithesis, it is a harmony.
Overall, the image of the bright dead things has remained with me. I won't spoil that poem's title here, so that you can discover what they are for yourself. Maybe you can carry them with you as well, you, ebullient and reckless, you, living just because you can.
Limón Ada. Bright Dead Things. E-Book, Milkweed Editions, 2015.