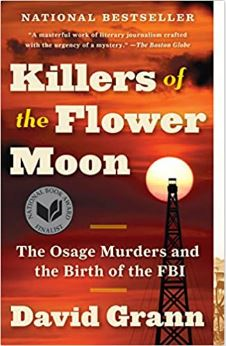 Killers of the Flower Moon is about the investigation of a crime, but as it tells that story, we learn about the different worlds of all the involved parties. Careful and enthusiastic research helps Grann tell us an interwoven story, and we want to keep reading because the story is so compelling.
I don't want to give too much away, but if you are interested in American history, this book is full of history you didn't learn in school, and it is fascinating and shocking. I listened to the audiobook, and there were three different narrators for the three different sections. This was an effective choice, and each narrator was an engaging reader, and a good match, for their section.
The first section lays the groundwork for the story, about the Osage Nation in Oklahoma, when they were the richest population on earth (per capita) in the early 1900s. The second section is about the different investigations of a series of murders, and how diligent those investigations were, or were not. (This section also includes a lot of information about the structure of the FBI and the influence of J. Edgar Hoover on changes in the FBI.) The third section pulls back the camera even further, to observe more about the context and meaning of the crimes being investigated, and to illustrate the personal cost to families in the Osage Nation.
When I say "pulls back the camera," that brings up another point of interest. I missed the original buzz about this book when it came out in 2017, and I checked it out recently, after hearing that Martin Scorsese was involved in a film adaptation. You might want to read it before you see the movie, or even just to get the references you will see online. Like this joke from Twitter this week.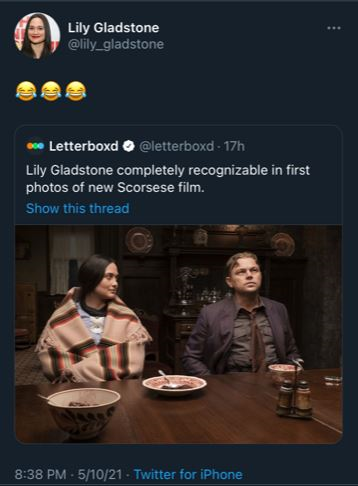 Grann, David, Ann M. Lee, Will Patton, and Danny Campbell. Killers of the Flower Moon: The Osage Murders and the Birth of the FBI, 2017. Sound recording.