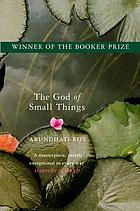 I just started The God of Small Things by Arundhati Roy, and I'm so glad I did. Over a foot of snow on the ground outside calls for some entertainment set in warm climes. Summer in India reads really well right now.
I bought this book a few years ago, when it was required for a class I was taking, and then the school changed the professor for the class, and that new professor changed the books. This book was the one from the original slate that I was looking forward to the most. I was happy to take it off the shelf this week. It's the story of twin boys and their connection to each other, as their family, which is already going through some things, welcomes visiting relatives who have their own problems. It's lush and full of surprises from the beginning, and yet never goes out of rhythm.
This is Roy's first novel, and it follows her training as an architect and her work as a production designer. There's a lot going on in this book, but we're in good hands. Roy knows her details and characters and shares them with us luxuriously, but never overwhelms us. Her vision is clear, and her characters are wonderfully flawed, and their relationships are familiar, yet unexpected, in their complexity.
And of course, The God of Small Things won the Booker Prize, which is always a good recommendation. If you like well-planned sprawling stories about families full of interesting characters, and not a snowdrift in sight, you will want to check it out.
Roy, Arundhati. The God of Small Things. New York: Random House, 1997. Print.