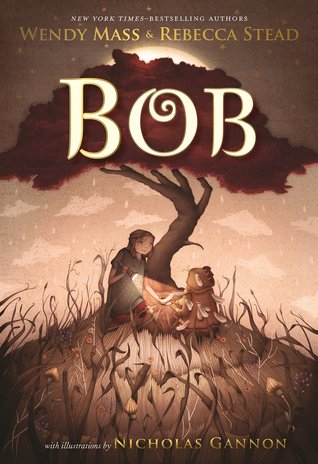 Confession: my son is a reluctant reader. This pains me both as a mother and a librarian. He was introduced to books as an infant, visited me at the library, was (and is) read to constantly, and there are books everywhere in our house. He can read just fine; it's just not his preferred hobby. He'll do whatever it takes to get through his daily 20 minutes of assigned reading and not a minute more. This is obviously a me-problem; what librarian doesn't want their kid to know the joy of reading?
So I was pleasantly surprised when he voluntarily brought home a middle-grade novel this week. He will often check out a book about animals or cars, or just choose to read picture books aloud to his sister. But this week, he handed me Bob by Wendy Mass. "I heard it's a good story." Indeed, it is – I read it in early 2019 and it was a 2020/21 Golden Sower nominee. We are reading a couple of chapters a night (don't want to exceed that 20 minute limit!).
Bob is the story of a small green creature, dressed in chicken suit, waiting not-so-patiently in a closet for his friend to return. That friend, Livy, has been gone for 5 years and when she does show up, she doesn't remember Bob or the promise she made to him when she was 5 years old – to help him find his home. Now that they are reunited, they set off to figure out the mystery of Bob.
Bob may or may not kick off a lifelong affinity for the written word, but for this winter break at least, I'm going to savor each page read aloud by my favorite reluctant reader.
Mass, Wendy. Bob. Feiwel & Friends, 2018.