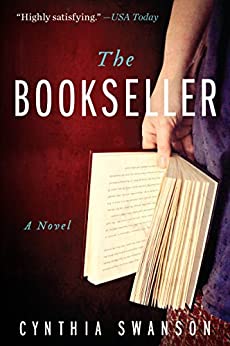 I am almost always drawn to books with the words book, bookshop, library or librarian in the title. The Bookseller, by Cynthia Swanson, caught my attention first with the title, then the unusual plot, then the location. Having lived in the Denver area for 22 years, this book was like walking down familiar streets again. I was hooked from the very first page, and I was 7/8's of the way through before I figured out the awesome plot twist. I hope you enjoy it as much as I did!
Denver, 1962: Kitty Miller has come to terms with her unconventional single life. She loves the bookshop she runs with her best friend, Frieda, and enjoys complete control over her day-to-day existence. She can come and go as she pleases, answering to no one. There was a man once, a doctor named Kevin, but it didn't quite work out the way Kitty had hoped.
Then the dreams begin.
Denver, 1963: Katharyn Andersson is married to Lars, the love of her life. They have beautiful children, an elegant home, and good friends. It's everything Kitty Miller once believed she wanted—but it only exists when she sleeps.
Convinced that these dreams are simply due to her overactive imagination, Kitty enjoys her nighttime forays into this alternate world. But with each visit, the more irresistibly real Katharyn's life becomes. Can she choose which life she wants? If so, what is the cost of staying Kitty, or becoming Katharyn?
As the lines between her worlds begin to blur, Kitty must figure out what is real and what is imagined, and learn to live with the result. (Amazon)