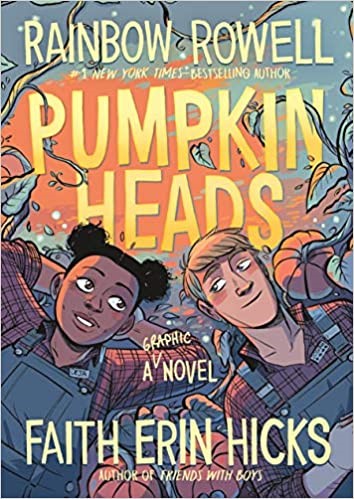 Is there anything better than a crisp cool night at the pumpkin patch in the fall? The smell of campfire smoke, kettle corn, and apple cider in the air?
Deja and Josiah have been partners in the Succotash Hut for 4 seasons at the world's greatest pumpkin patch. It's their last night, and Deja is on a mission to get Josie to finally talk to his long-time crush at The Fudge Hut…and score some snacks along the way.
This YA graphic novel by Nebraska author Rainbow Rowell and Canadian artist Faith Erin Hicks was the perfect quick read to kick off my autumn. While I may not visit the local pumpkin patch this year (darn you coronavirus!), I am definitely ready for s'mores, fire pits, and pumpkin pie.
Rowell, Rainbow. Pumpkinheads. First Second Books, 2019.