With the absence of baseball in the spring of 2020 comes the opportunity for an alternative – a good baseball book. I came across a copy of Michael Shaara's For Love of the Game among my books. I don't recall that I actually read the book at some time in the past. I do remember the movie version that starred Kevin Costner as Billy Chapel, the baseball legend and sure to be future Baseball Hall of Fame pitcher, the book's protagonist.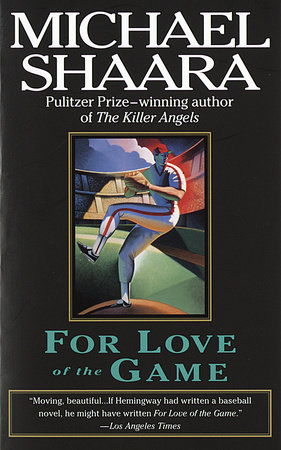 Having read the book recently, the book and movie versions have some significant differences. So it goes. In short, Chapel will pitch the final game of the season and likely his last as a major leaguer. This with the background of an uncertain personal relationship and also the knowledge that the team he has been with for his entire career is about to betray him.
Michael Shaara is best known for The Killer Angels, his Pulitzer prize-winning classic regarded as one of the best Civil War novels. For Love of the Game was published after Michael Shaara's death. The book includes an introduction written by Sharra's son, Jeff.
Michael Shaara began his career writing science fiction short stories. A family vacation to Gettysburg, Pennsylvania, in 1966 was the inspiration for his novel, The Killer Angels. It was his love for baseball that resulted in For Love of the Game.
Shaara, Michael. For Love of the Game. Ballantine Books, 1991.