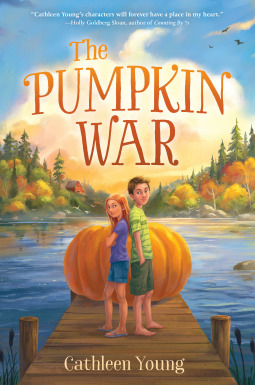 I don't know about you, but reading during this pandemic has been a challenge. Between working from home, keeping a school-age kid on track with his lessons and a preschooler out of the cookie jar, not to mention feeding everyone 3-5 times a day (why are we so hungry?!?), and the constant blare of the news, I just don't have the time or attention span to concentrate on a book. Is it just me? (Apparently not).
Fortunately, my public library recently started contact-less pickup and I got a load of middle-grade novels and picture books for the aforementioned children. The Pumpkin War by Cathleen Young was at the top of the pile.
Set on Madeline Island in Lake Superior, this is the story of a half-Irish, half-Ojibwe girl named Billie who is determined to win her town's annual pumpkin race and get revenge on her former best friend for sabotaging her attempt the previous summer. It is also the tale of how every story has two sides, growing pumpkins is a full-time job, and sometimes winning isn't something we do on our own. It was the perfect book to kick off my summer reading and yours too!
Young, Cathleen. The Pumpkin War. Random House, 2019.