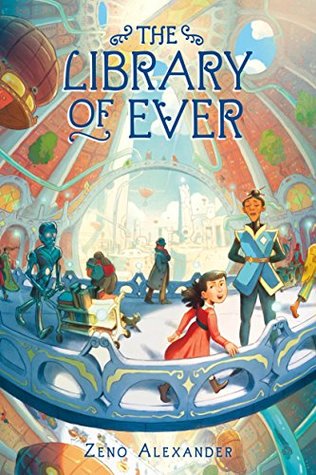 I'll be the first to admit that you can put the word "library" in any book title, and I'll read it without hesitation. But I am sure glad I picked up The Library of Ever by Zeno Alexander, because it was delightful. I read a handful of middle-grade books around this time each year, and this has been my favorite selection so far of 2020.
Trying to abscond from her nanny at the library and get some quality reading time in, Lenora stumbles into the "staff only" section. Recognizing her potential, the head librarian offers her a job as "Fourth Assistant Apprentice Librarian", tasking her to use her wits and valor to serve her patrons. Lenora embarks on a series of adventures, some comical, some harrowing, in her quest to answer patron inquiries. If only my days on the reference desk were this exciting!
This book clocks in at 208 pages, so it's a fairly quick read, making it ideal for read-alouds. The fast-pace and fun facts will keep middle grade readers engaged. I have a certain niece named Lenora that will be getting a copy soon for sure!
Alexander, Zeno. The Library of Ever. Imprint, 2019.