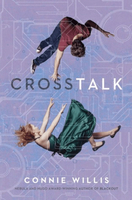 In Crosstalk by Connie Willis, a simple surgery to promote empathy between romantic partners goes hilariously wrong. It shows how constant, complete, personal connection is anything but desirable. Briddey Flannigan should have known, since the cell phone company, (COMMSPAN) she works for in a US city, is very nearly a model of what will come, with gossip seemingly carried on the breezes! And avoiding telling her family the news that she and her perfect boyfriend, Trent Worth will be having the implantation of a devise which will result in empathy,( if they are truly in love), before she tells her friends at work is, well, a lost cause.
The entire novel moves at a breakneck pace from one situation to another. Just as soon as Bridey has settled her family, her boyfriend Trent springs a speeded up surgery schedual on her, so she's off to the hospital. And avoiding gossip and her family, by hiding her car. After seeing that her family has no boundaries where it comes to Bridey's privacy one begins to see why she's so secretive. And why she settles on the up and coming executive Mr. Worth, and his push to get the EED (the empathy device) before they marry. Which her family and CB Schwarz think is a really bad idea–and they all email, call, or text her. She argues it's been tested before, and that even celebrities have had it done, and that they are even having the Dr. who invented the device doing the surgery. The surgery goes well. The aftereffects are, well, telepathy. And of course, the first person she hears is not Trent, but CB Schwarz, who is naturally telepathic.
Ms. Willis brings the claustrophobic and confusing experience that we imagine to be telepathy to a print page well. It can be confusing for the reader as well, but having a sense of the harried life of Briddey, makes it worth a little push just to get through those passages. It also gives her new relationship with CB a understandably difficult start. And exposes the real reasons behind Trent's wanting to get the EED before getting married, like other couples.
This is the perfect introduction to Connie Willis and her comic timing, her patter, and infectious humor and sense of irony. If you enjoy Crosstalk, you'll enjoy, To Say Nothing About the Dog, and Bellwether.
Crosstalk, by Connie Willis, Del Rey, 978-0-34554067-6