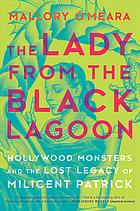 The Lady From the Black Lagoon is a biography, but it's also not a biography. Sure, it's the compelling life story of Milicent Patrick, a woman on both sides of the Old Hollywood camera. Milicent was a striking figure in front of the camera, but she was a real trailblazer in the world of make-up and design—specifically monster design, most notably, the Creature from The Black Lagoon. It's also the story of her biggest fan, author Mallory O'Meara, and her quest to find out Milicent's story, and her determination that Milicent get the credit she deserves for her work.
Along the way, O'Meara faces challenges. Milicent reinvented her identity many times, and used variations of her name personally and professionally–which was not unusual in Hollywood by any means, but it still poses research challenges. Luckily, O'Meara was already knowledgeable about Old Hollywood, and it was her voracious interest in old monster movies that led her to Milicent in the first place. O'Meara also gets some good research advice from some helpful librarians and archivists, which warmed this library worker's heart.
This book is full of amazing stories. We get Milicent's childhood years spent growing up on the Hearst Castle grounds, because her father was an engineer on that never-ending project. We also get the complicated family relationships that shaped Milicent's life. We learn a lot about the behind-the-scenes production of Old Hollywood movies—and what a tough place it was for a woman to work, and how easy it was for Milicent's labor to be exploited and almost erased. What really brings it all together, though, are the parallels that O'Meara is able to draw between her own career in movie production, with Milicent's experience. O'Meara understands why Milicent chose to fight some battles and chose to walk away from others, and shares her own stories—some inspiring, some frustrating. (I have a guess who the unnamed voiceover jerk actor is, so let me know if you do, too.)
I listened to this book, and the author read it. That's a risk—and in this case, it's one that paid off! The author has a pleasant and clear voice, and her passion for her subject comes through loud and clear. After listening, I learned that it's on many best-of lists for 2019, and I'm not surprised one bit.
O'Meara, Mallory. The Lady from the Black Lagoon: Hollywood Monsters and the Lost Legacy of Milicent Patrick. , 2019. Print.