The Nebraska Publications Clearinghouse receives documents every month from all Nebraska state agencies, including the University of Nebraska Press (UNP).  Each month we will be showcasing the UNP books that the Clearinghouse receives.                UNP books, as well as all Nebraska state documents, are available for checkout by libraries and librarians, for their patrons, in Nebraska.
Here are the UNP books the Clearinghouse received in August: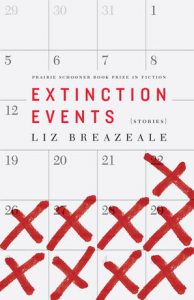 Extinction Events [Stories]
Liz Breazeale (Series: Prairie Schooner Book Prize in Fiction)
In this collection of short stories, Liz Breazeale explores the connections between humans and the natural world by examining the processes and history of our planet. A myriad of extinction events large and small have ruptured the history of the earth, and so it is with the women of this book, who struggle to define themselves amid their own personal cataclysms and those igniting the world around them. They are a mother watching the islands of the world disappear one by one, a new bride using alien abduction to get closer to her estranged parent, a daughter searching for her mother among the lost cities of the world, a sister trying and failing to protect her mythical continent–obsessed brother.
Here extinction events come in all sizes and shapes: as volcanic eruptions and devastating plagues and meteor impacts, as estrangements and betrayals and losses. Dark, angry, and apocalyptic, Extinction Events is a compendium of all the ways in which life can be annihilated.
Hard Damage
Aria Aber (Series: Prairie Schooner Book Prize in Poetry)
Hard Damage works to relentlessly interrogate the self and its shortcomings. In lyric and documentary poems and essayistic fragments, Aria Aber explores the historical and personal implications of Afghan American relations. Drawing on material dating back to the 1950s, she considers the consequences of these relations—in particular the funding of the Afghan mujahedeen, which led to the Taliban and modern-day Islamic terrorism—for her family and the world at large.
Invested in and suspicious of the pain of family and the shame of selfhood, the speakers of these richly evocative and musical poems mourn the magnitude of citizenship as a state of place and a state of mind. While Hard Damage is framed by free-verse poetry, the middle sections comprise a lyric essay in fragments and a long documentary poem. Aber explores Rilke in the original German, the urban melancholia of city life, inherited trauma, and displacement on both linguistic and environmental levels, while employing surrealist and eerily domestic imagery.
Low Mountains or High Tea : Misadventures in Britain's National Parks
Steve Sieberson
When Steve Sieberson and his wife unexpectedly found themselves in Britain with an entire summer on their hands, they readily agreed to avoid the usual tourist attractions, opting instead for a road trip to the UK's far-flung national parks. As they set out, however, he envisioned bracing days of energetic hillwalking, while she assumed they would relax in tearooms and cozy pubs.
Seldom planning more than a few days in advance, the two traversed the country in a rented Vauxhall, subjecting themselves to single-track lanes, diabolical signage, and whimsical advice from locals. They discovered a town called Mirthless, a place where cats' eyes are removed, and a vibrating cottage, while at mealtimes they dove fearlessly into black pudding, Eton mess, and barely recognizable enchiladas. Meanwhile, after their initial attempts at hiking together nearly ended in disaster, Sieberson received dispensation to scramble alone to the highest point in each national park—as long as he was quick about it and left plenty of time for more sedentary pursuits. Low Mountains or High Tea dishes up the charms and eccentricities of rural Great Britain as seen through the eyes of two Americans who never really knew what was coming next.
Midwestern Strange : Hunting Monsters, Martians, and the Weird in Flyover Country
B.J. Hollars
Midwestern Strange chronicles B.J. Hollars's exploration of the mythic, lesser-known oddities of flyover country. The mysteries, ranging from bipedal wolf sightings to run-ins with pancake-flipping space aliens to a lumberjack-inspired "Hodag hoax," make this book a little bit X-Files, a little bit Ghostbusters, and a whole lot of Sherlock Holmes. Hollars's quest is not to confirm or debunk these mysteries but rather to seek out these unexplained phenomena to understand how they complicate our worldview and to discover what truths might be gleaned by reexamining the facts in our "post-truth" era.
Part memoir and part journalism, Midwestern Strange offers a fascinating, funny, and quirky account of flyover folklore that also contends with the ways such oddities retain cultural footholds. Hollars shows how grappling with such subjects might fortify us against the glut of misinformation now inundating our lives. By confronting monsters, Martians, and a cabinet of curiosities, we challenge ourselves to look beyond our presumptions and acknowledge that just because something is weird, doesn't mean it is wrong.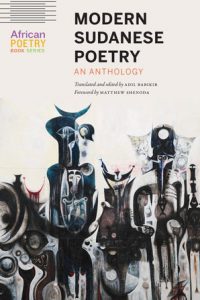 Modern Sudanese Poetry : an Anthology 
Translated and edited by Adil Babiker, Forward by Matthew Shenoda (Series: African Poetry Book Series)
Spanning more than six decades of Sudan's post-independence history, this collection features work by some of Sudan's most renowned modern poets, largely unknown in the United States. Adil Babikir's extensive introduction provides a conceptual framework to help the English reader understand the cultural context. Translated from Arabic, the collection addresses a wide range of themes—identity, love, politics, Sufism, patriotism, war, and philosophy—capturing the evolution of Sudan's modern history and cultural intersections.
Modern Sudanese Poetry features voices as diverse as the country's ethnic, cultural, and natural composition. By bringing these voices together, Babikir provides a glimpse of Sudan's poetry scene as well as the country's modern history and post-independence trajectory.
Wilderness of Hope : Fly Fishing and Public Lands in the American West
Quinn Grover (Series: Outdoor Lives)
Longtime fly fisherman Quinn Grover had contemplated the "why" of his fishing identity before more recently becoming focused on the "how" of it. He realized he was a dedicated fly fisherman in large part because public lands and public waterways in the West made it possible. In Wilderness of Hope Grover recounts his fly-fishing experiences with a strong evocation of place, connecting those experiences to the ongoing national debate over public lands.
Because so much of America's public lands are in the Intermountain West, this is where arguments about the use and limits of those lands rage the loudest. And those loudest in the debate often become caricatures: rural ranchers who hate the government; West Coast elites who don't know the West outside Vail, Colorado; and energy and mining companies who extract from once-protected areas. These caricatures obscure the complexity of those who use public lands and what those lands mean to a wider population.
Although for Grover fishing is often an "escape" back to wildness, it is also a way to find a home in nature and recalibrate his interactions with other parts of his life as a father, son, husband, and citizen. Grover sees fly fishing on public waterways as a vehicle for interacting with nature that allows humans to inhabit nature rather than destroy or "preserve" it by keeping it entirely separate from human contact. These essays reflect on personal fishing experiences with a strong evocation of place and an attempt to understand humans' relationship with water and public land in the American West.