FOR IMMEDIATE RELEASE:
July 31, 2019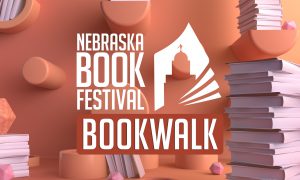 CONTACT: Rosemary Sekora Book Festival Coordinator
Publicity Manager University of Nebraska Press rsekora@unl.edu / 402.472.7710
Support local bookstores in August with the 2019 Bookwalk, a Nebraska Book Festival event
Lincoln, NE – Beginning August 1, support your local Lincoln bookstores with the Bookwalk! Throughout the month of August visit participating bookstores, receive a specialty bookmark, and get your bookmark hole-punched when you visit the Lincoln bookstores. Then take your completed bookmark to Zipline Brewery on Sept. 6 to receive happy hour pricing. At 7:00 p.m. on Friday, Sept. 6 at Zipline Brewery the book festival will host a literary quiz to Bookwalkers. Entry and participation is free! A list of participating bookstores is below. Please see the
Facebook event
for more information or the
Nebraska Book Festival website
. The inaugural 2019 Bookwalk is sponsored by the Nebraska Book Festival. Badgers Bookstore

4730 Cooper Ave, Lincoln, NE 68506 Bluestem Books 137 S 9th St, Lincoln, NE 68508 UNL Campus Store 1500 S St, Lincoln, NE 68508 Francie & Finch Bookshop 130 S 13th St, Lincoln, NE 68508 Indigo Bridge Books 701 P St #102, Lincoln, NE 68508 A Novel Idea Bookstore 118 N 14th St, Lincoln, NE 68508 Trade-A-Tape Comic Center 145 S 9th St, Lincoln, NE 68508 University of Nebraska Press Pop-Up Bookstores 8/3/19 – 11:00AM-2:00PM – White Elm Brewing Co. (720 Van Dorn St.) 8/28/19 – 10:00AM-2:00PM – The Mill Coffee & Bistro at Nebraska Innovation Campus Zipline Brewing Co. PUB. Library 2100 Magnum Cir #1, Lincoln, NE 68522
###
The Nebraska Book Festival, taking place on Sept. 7 in UNL's city campus union, is held to celebrate Nebraska's literary heritage and contemporary authors and to stimulate public interest in books, reading, and the written word. By gathering together contemporary writing talent of our state and surrounding areas, the festival provides an opportunity for participants to cultivate an understanding of our history, culture and community. Support for the Nebraska Book Festival comes from Nebraska Center for the Book, Nebraska Library Commission, University of Nebraska Press, Lincoln City Libraries, Friends of the University of Nebraska Press, and Union Bank.