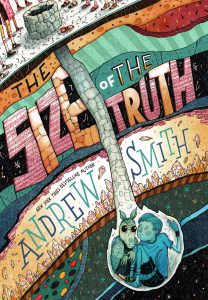 Andrew Smith is best known for writing young adult novels that range from darkly humorous and apocalyptic, like
Grasshopper Jungle
and
Rabbit & Robot
, to angst-filled and realistic, like
Winger
and
Stand-off
. In a notable departure, Smith just debuted his first middle grade book, the mostly realistic but tiny bit surreal
The Size of the Truth
. It's a prequel of sorts, filling in the backstory of Sam Abernathy, Ryan Dean's precocious, cooking-show-loving roommate from
Stand-off
. Sam narrates
The Size of the Truth
, jumping back and forth in time between the defining experience of his young life, which occurred when he was four and got trapped at the bottom of a well for three days, and his present, as an eleven-year-old eighth grader dealing with baggage left over from that event. The baggage includes severe claustrophobia and an inability to escape his identity, in Blue Creek, Texas, as "The Little Boy in the Well." It also infects Sam's relationship with his parents, who plot out every aspect of his life in an obsessive effort to "[make] sure [he'd] never have the freedom to fall into unseen holes in [his] future" (71). (Their version of his life involves Science Club, AP Physics, Blue Creek Magnet High School, and MIT, as opposed to the culinary school Sam aspires to attend.) Sam, for his part, goes along with this micromanagement because he doesn't want to "do something as foolish as fall into a hole and disappoint [his] parents ever again" (71). Sam's challenge, in the course of this story, is to internalize the truth imparted to him by a probably-not-real talking armadillo named Bartleby (this is the surreal element referenced above), who he remembers visiting him during his time in the well:
"don't go living your life only trying to avoid holes
" (172). Sam also needs to learn that other people aren't always who he's believed them to be either—most notably, James Jenkins, the older "murderous" boy Sam has always blamed for the well incident. (Everyone in Blue Creek assumes James is destined for football stardom when, unbeknownst to them, he has a whole other identity in Austin, Texas, where his mother lives.) I don't know how middle school me would have responded to Smith's latest book, but it definitely strikes a chord with adult me. In particular, as the mother of a 17-year-old who I want to not only protect but also see flourish and succeed, it's a good reminder of the damage we do when we project our expectations on to others, filling in their blanks without really listening to their truth. Smith, Andrew.
The Size of the Truth
. New York: Simon & Schuster Books for Young Readers, 2019.