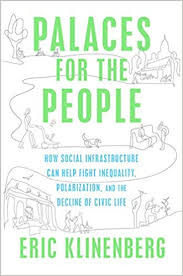 It is unusual for libraries to be the subject of best-selling books and nationally distributed films. Though, in recent times, that has happened with the publishing of Susan Orlean's
The Library Book
, Eric Klinenberg's
Palaces for the People
, Emilio Estevez's film,
The Public
, and Frederick Wiseman's epic film documentary,
Ex Libris
. In
Palaces for the People
, libraries are a subject not the subject. The book title comes from Andrew Carnegie's philanthropic initiative to support the building of libraries as palaces of the people. Klinenberg contends that public libraries are essential to social infrastructure – defined as the "physical places and organizations that shape the way people interact." Klinenberg, a sociologist, reflects on how common spaces, like libraries, can aid in repairing our degraded and fractured civic life. He points to a number of "palaces" vital to restoring the common good – parks, diners, farmer's markets, churches, and more. As for libraries, Klinenberg writes that "Libraries are the kinds of places where ordinary people with different backgrounds, passions, and interests can take part in a living democratic culture." Klinenberg rightly recognizes that libraries are community places that have value for all – public programs, space for children and teens, reading spaces, broad-based reading materials, public computers, makerspaces, and much more. Some places are not for everyone, libraries
are
for everyone. Klinenberg says libraries are "the best case of a physical place that is open and accessible to everyone, regardless of age, ethnicity or race, social class, or even citizenship status. They're places that are defined by generosity of spirit." Libraries are not what they could be. Budget reductions over time have taken their toll. Library funding at national, state, and local levels has declined or remained stagnant. Library staffing, public service hours, and collections have declined. A more positive thought is that libraries, resourceful as they are, have sought ways to increase and improve programming, explore new services, and demonstrate imagination in doing more with less. Klinenberg makes the case for social infrastructure investments. His contention is that financial support – investment – brings people together and builds stronger communities, just as important as public and private investment in the physical infrastructure of roads, bridges, and other components. Imagine what would be possible if times could change to add more funding to library budgets. Eric Klinenberg is a professor of sociology and director of the Institute for Public Knowledge at New York University. He is the coauthor of the #1
New York Times
bestseller
Modern Romance
and the author of the acclaimed books
Going Solo
and
Heat Wave
. He has contributed to
The New Yorker
,
The New York Times Magazine
, and
This American Life
. Eric Klinenberg.
Palaces for the People: How Social Infrastructure Can Help Fight Inequality, Polarization, and the Decline of Civic Life.
Crown), 2018.