April 18, 2019, 11 am – Noon, Nebraska Union Auditorium Tanya Zanish-Belcher, the Director of Special Collections & Archives at Wake Forest University in Winston-Salem, North Carolina, is the 2019 Visiting Scholar for the University of Nebraska–Lincoln Libraries. Her public presentation on "Academic Freedom: The Key Role of Archival Records,' is scheduled for April 18, 2019, at 11:00 a.m. in the Nebraska Union Auditorium (1400 R St., Lincoln). 
The event is free and open to the public.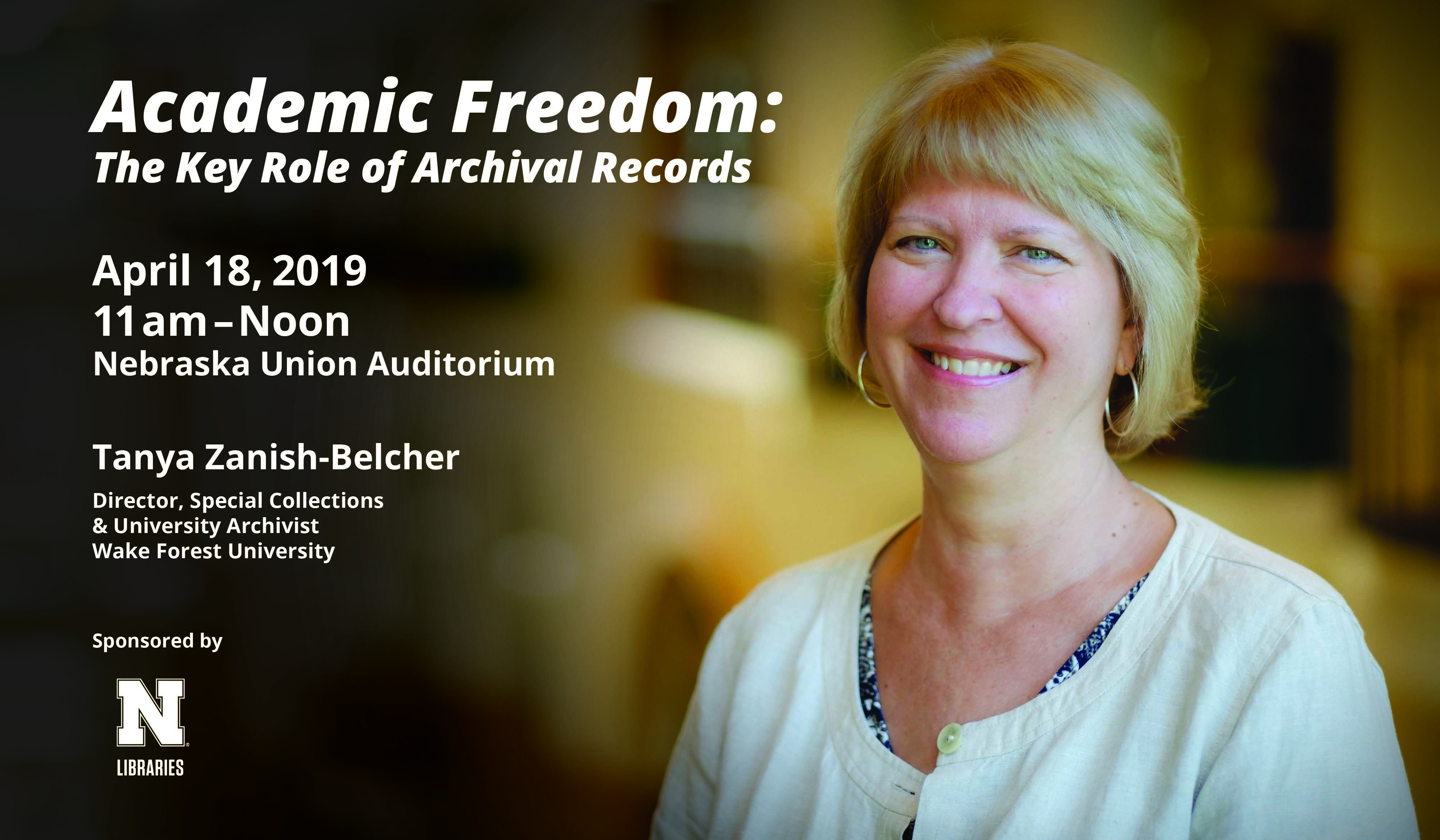 Zanish-Belcher's presentation will address research, and the broadest sense of the historical record, which is based on, or depends upon, the quality and amount of historical records available for the types of stories we can tell. The expansion of the documentary record, particularly (1) the creation of materials giving a much-needed view of marginalized groups long silenced, (2) the explosion of community-based archives, and (3) the digitization of materials from the past all provide rich new sources for exploration. What impact does this growing plethora of information and data have on our efforts to describe, contextualize, and share the various elements of our complicated histories? At the same time, a growing lack of access to the public record, whether by cost, censorship, a decrease in public funding, or a narrowing view of American citizenship, challenges us. How can archivists, researchers, and scholars reverse this trend and ensure the continued preservation and access to the historical record which defines who we are? Zanish-Belcher received her M.A. in Historical and Archival Administration from Wright State University in Dayton, Ohio, and her B.A. in History from Ohio Wesleyan University. Prior to her appointment as director at Wake Forest in 2013, she was the Head of Special Collections & Archives at Iowa State University Library between 1998-2013, and was also a Special Collections Archivist at the Alabama Dept. of Archives and History between 1989-1994. Her publications include
Perspectives on Women's Archives
(edited, with Anke Voss) for the Society of American Archivists (2013) and author of one of its chapters, "'A Culture of Concealment': Revealing the Records of Human Reproduction." Tanya has taught workshops on archival reference for the Midwest Archives Conference and has given many presentations at the state, local, and national levels. She has published articles on women's archives and women in science, and has served on and chaired various SAA committees, including the nominating committee, Committee on the Status of Women, and the Membership Committee. She was named a Society of American Archivists (SAA) Fellow in 2011, the highest accolade given by the Society. She is a Past President of Midwest Archives Conference, member of the SAA Council (2012-2015), and was elected Vice-President/President Elect for SAA in 2016. Zanish-Belcher served as the 73rd President of the Society of American Archivists in 2017-2018.