This boo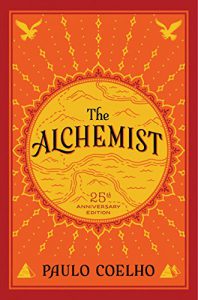 k has been sitting on my bookshelf, unread, for about a decade. I bought it because a few friends had raved about the life-altering, mind-bending power of this book. Needless to say, I was skeptical. I didn't say anything back them, but I suspected the only reason my friends enjoyed the book is because they were already in the middle of changing their own lives when they happen to stumble upon the book.
The Alchemist
has the ability to pour gas on a lit fire to make the flames explode upward. But it cannot apply spark to the flint over dead leaves.
The Alchemist
by Paulo Coelho is the story of a young man named Santiago who wants to see the world. He starts out as a shepherd who quietly enjoys what he does. But the endless horizon calls out to him. Thus his journey begins. Along the way, he meets a variety of mystically inclined individual(s) who provide him with endless philosophical advice to drive him towards his own Personal Legend. He winds up in pursuit of treasure near the pyramids in Egypt. It's a wild ride. When I tried to read this book the first time, I was turned off by phrases like 'Personal Legend', 'Soul of the World', and other over-the-top phrases. Ten years later, when the book called to me again, I realized that these are just phrases.  Depending on your own personal beliefs, you can mentally exchange these phrases for words that speak to you. The book was already translated once from the Brazilian author's native Portuguese. For me, this book was a way to see myself from a more global perspective. We will all travel through life, meeting different people who will teach us different things. As I learn more about how people in other parts of the world live, I find my own Personal Legend shifting. The small irritations in life don't seem to matter quite as much. I have food, clean water, access to learning tools, plenty of books, all things necessary to a good life. Why not help those who don't have access to that already? If you're ready to change your life, or are open to seeing other ways of life, this could be a good book. It's a quick read, and can be a great catalyst for change. As you're reading your own meaning into the book, keep in mind that sometimes the journey is vastly more important than the end goal. Maybe I will pick up this book in another ten years and see a completely different story.