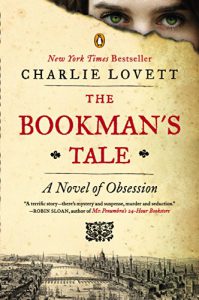 Mystery fiction has many subgenres: hard-boiled, cozy, police procedural, etc. One particular subgenre of interest to lovers of books is that of the bibliomystery, and in recent years, I've found that I love to read, or listen to, books that fall in this bibliomystery category.  If you do an online search you will find many authors that write bibliomysteries.  My favorites are John Dunning's
Cliff Janeway
series, John Grisham's
Camino Island,
 Bradford Morrow's
Prague Sonata
and bibliomysteries by Charlie Lovett, which leads me to today's Friday Reads post:  
The Bookman's Tale: A Novel of Obsession
, by Charlie Lovett. Hay-on-Wye, every bibliophile's dream destination in England, 1995. Peter Byerly isn't sure what drew him into this particular bookshop.  Nine months after the death of his beloved wife Amanda left him shattered, Peter, a young antiquarian bookseller, relocates from North Carolina to the English countryside, hoping to outrun his grief and rediscover the joy he once took in collecting and restoring rare books. But upon opening an eighteenth-century study of Shakespeare forgeries, he discovers a Victorian watercolor of a woman who bears an uncanny resemblance to Amanda.  Peter becomes obsessed with learning the picture's origins and braves a host of dangers to follow a trail of clues back across the centuries—all the way to Shakespeare's time and a priceless literary artifact that could prove, once and for all, the truth about the Bard's real identity, and definitively prove Shakespeare was, indeed, the author of all his plays.