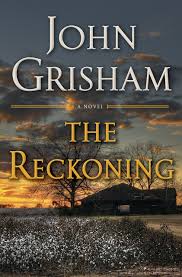 I have read many of John Grisham's legal thrillers dating back to his second book,
The Firm
(1991). I didn't read his first,
A Time to Kill
. I only saw the movie. It is admirable that a writer can publish a new bestseller each year, and sometimes more than one. Grisham's novels now number 41. In addition, he has published short stories, nonfiction, and young adult books. Grisham is a creative and clever writer. His most recent book,
The Reckoning,
is, to me, among his best. The book is set in 1946 in Grisham's familiar rural Ford County, Mississippi. Grisham's experiences there, including an early career as a criminal defense attorney and state legislator, offer informed and useful background for his writing. Pete Banning is the book's central character – a kind and respected cotton farmer from a prominent family with deep roots in the community. Banning is a West Point graduate, a World War II infantry officer, prisoner of war escapee, and war hero decorated for his leadership and accomplishments as a guerrilla fighter in the Philippines. Thought of as killed in action, Banning's surprise return home after the war was followed by a shocking criminal act that disrupts his family and the entire community. Banning refuses to offer an explanation for his actions. Why would someone so admired, responsible and respected do what he did? The mystery carries through the book to an unexpected and surprising conclusion. Of the book's more interesting chapters are those involving Banning's wartime service with the Army in the Philippines. There is rich, well-researched, detail of the U.S. Army's actions, the Bataan Death March, prisoner of war experiences, and guerilla warfare. Equally interesting is how Grisham creates his storylines. For
The Reckoning
, Grisham contends that the story came from those told among state lawmakers, gathered together for evening conversations. Grisham appears not sure whether the Banning story was based on a real or imagined incident. Either way, the story is compelling and will keep the reader turning pages to the surprising ending. Grisham, John.
The Reckoning.
New York: Penguin Random House, 2018.