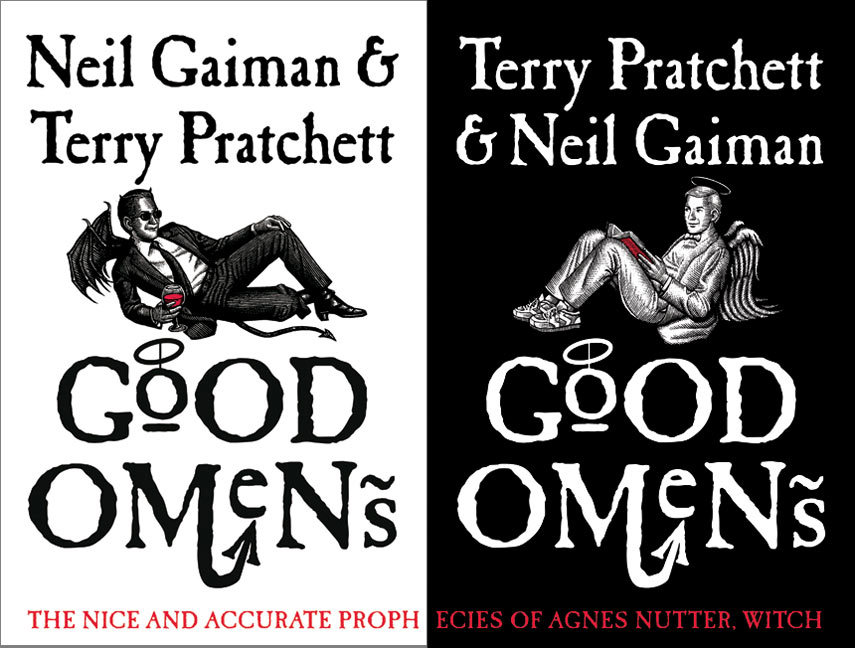 I recently ordered a copy of
Good Omens
, which arrived in my mailbox dingy, awkwardly sized, and with an atrocious "SOON TO BE A TV SERIES" sticker that turned out to not be a sticker at all, but rather a circle printed onto the cover itself like a mosquito trapped in amber — the point being, the book arrived not at all like I had hoped, but rather in a manner that oddly suited it. Like an old, eccentric friend skidding to a stop right at your front-door: slightly out of breath, bedraggled, and altogether entirely welcome.
Good Omens
brings together an entire cast of
Dramatis Personae
to enjoy, but three of the central characters are Crowley ("an Angel who did not so much Fall as Saunter Vaguely Downwards"), Aziraphale ("an Angel, and part-time rare book dealer"), and Adam ("an Antichrist"), all of whom are
supposed
to bring about the End of the World according to The Plan, but all of whom don't really want to. Neither Crowley nor Aziraphale, having forged a strange friendship dawning back to the Fall of Man, fancy an eternity of The After run exclusively by either demons or angels. Plus, they've developed a sort of attachment to humanity and all of its wonderful imagination. And as for Adam, well… what eleven-year-old wants to do what he's told? This is a whirlwind delight of a book; though at times its snappy, quick-witted prose can create as much confusion as it does charm. It's a book that you would be
tempted
to read quickly (and can), but you may find yourself (like me) having to go back and carefully reread certain passages. It took me a few attempts to comprehend the baby-swapping that occurs in the beginning. It doesn't help that a collaboration between two prolific British authors tends to be quite…
British,
and although the authors' inclusion of footnotes helps, eventually an untraveled American may need to give up on recognizing where anything is taking place. It's a rollicking, reverently irreverent mashup of
The Hitchhikers Guide to the Galaxy
and
The Holy Bible
; a humorous high-energy (oc)cult classic that might end up making a profound point about Life and all that.
---
Gaiman, Neil, and Terry Pratchett.
Good Omens
. Harper Collins USA, 2006.