On Tuesday, October 16
th
, over 150 residents attended the Sparks Grant Open House at the Verdigre Public Library.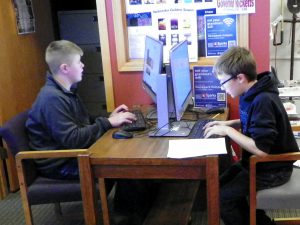 "Which one is the homework computer?" asked Carter Nelson, a 6th grader at Verdigre Public School, the day after attending the open house. Those homework computers that Carter was referring to are part of an Institute of Museum and Library Services (IMLS), National Leadership Grant (NLG) awarded to the Nebraska Library Commission in partnership with the Nebraska Office of the Chief Information Officer in April of 2018. The IMLS Sparks Grant,
Nebraska Schools and Libraries–Breaking the Ice and Igniting Internet Relationships
, as the name implies, is intending to kindle partnerships between schools and libraries, and through Internet sharing, to help narrow the Homework Gap for public K-12 students. The Verdigre Public Library has a new Homework Hotspot located in the library, with the internet for the hotspot provided by Verdigre Public Schools. The school offers internet speeds that are 7 times faster than internet speeds offered at the public library. Students and staff members from Verdigre Public Schools can access the school's internet connection to complete homework by using either one of the two new desktop computers purchased by the grant or their own school issued devices. The library offers a location for students who may not have internet at home, have poor connectivity or very slow internet at home to complete their schoolwork.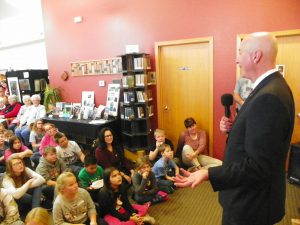 Nebraska Governor Pete Ricketts attended the Open House. The Governor summarized the Sparks Grant and answered questions from the open house attendees for an hour.  The 100 plus students attending the event asked some tough and light-hearted questions ,"How does a state know how much money it will spend next year before knowing its income?", "What are food stamps?",  and "Did I hear you're a Cardinals fan?" Verdigre is one of five Nebraska communities that are participating in the grant project. The other communities include Bancroft, Genoa, Imperial, and Wymore. The Sparks Grant is for one year, at the end of that year, each community will evaluate the project and decide if they want to continue the project with local funding. This shared internet is made possible in part by IMLS grant: LG-99-18-0018 and the following partners.