T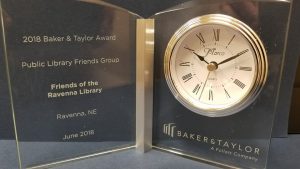 he Friends of the Ravenna (Nebraska) Library, along with the Friends of the Shelby (Michigan) Area District Library,  have been recognized with United for Libraries' Baker & Taylor Awards for outstanding efforts to support their libraries. Each group receives $1,000 and a plaque from Baker & Taylor to honor their achievements. The Friends of the Ravenna Library held 19 programs to benefit its community in 2017, many of which contributed to funds raised for the city of Ravenna's project to build a brand-new library facility. The new facility will be three times the size of the previous one at 7,600 sq. ft., providing ample space for the library's annual programs and activities. Given annually since 2000, the Baker & Taylor Awards have recognized more than 45 groups for outstanding efforts to support their library.
United for Libraries
: The Association of Library Trustees, Advocates, Friends and Foundations, is a division of the American Library Association with approximately 4,000 personal and group members representing hundreds of thousands of library supporters.
United for Libraries
supports those who govern, promote, advocate, and fundraise for libraries, and brings together library Trustees, advocates, Friends, and Foundations into a partnership that creates a powerful force for libraries in the 21st century. The Nebraska Library Commission supports membership to
United for Libraries
for all of the state's public libraries
to ensure that Nebraska library staff, friends, trustees, and foundations can take advantage of services to enhance fund raising, advocacy, and public awareness. Nebraska libraries are encouraged to use a special website (
www.ala.org/united/Nebraska
) to access resources, webinars, online training, and publications for Nebraska library trustees, library directors, and library staff at no charge to the participating library.