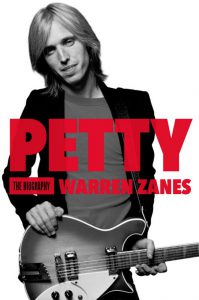 For years, I overlooked the simplicity and beauty of Tom Petty's music. Some points of clarification at the outset: I would like to acknowledge the contribution of the Heartbreakers to Tom Petty, and it should be noted that the band (both collectively and individually) did a fair amount of side work, including backing
Johnny Cash
and the Travelling Wilburys (among other things). I owe it to my daughter (11-year old astrology expert and member of the counterculture) for my renewed interest in Petty, and the Heartbreakers. As a youngster, I never really listened to him much. Not that I had anything against him or his music, but I guess I just did not have the appreciation at that time. At any rate, the daughter, oddly and I'm not sure how, became a huge Petty fan. She likely was drawn to his simplicity, musical genius, and willingness to tell it like it is. Speaking of how Tom and the Heartbreakers got hooked up with Johnny Cash, Tom mentions that the band was interested in
all
forms of American music, pure forms that is, "not what they would call country today. What they would call country today is sort of like bad rock groups with a fiddle." Tom and the Heartbreakers backed Cash on
American II: Unchained
. As much as I could go on about Cash, this little review today is about Petty, so let us steer back in that direction.
Petty
, written by former Del Fuegos guitarist Warren Zanes, chronicles Tom's upbringing, complete with an abusive alcoholic father in 1950's working class Gainesville, FL.  Arguably, the most difficult obstacle in Petty's childhood was his lack of familial support for his interests and passion (music), but some might argue that being severely beaten around age 5 would be just as bad or worse. At any rate, Tom did not have an easy childhood, and while struggling through the monotony and boredom of school, he did get hooked up with other musicians, notably taking guitar lessons from Don Felder (the Eagles), forming various cover bands, and then the assembly of Mudcrutch. Most of the members of Mudcrutch subsequently became members of the Heartbreakers. The account provided by Zanes relies on interviews from various people around the band and Petty himself. I think Tom wanted to tell his story, but felt the need to have it done independently, so that it seemed more credible. I can't say I blame him, as I've often read autobiographies (especially by musicians) that come across as braggadocios, even if not intended. This one doesn't play that way. Petty is such a likeable figure because of his honesty and humility. That is not to say that the duration of the Heartbreakers was without conflict, because it certainly was not. In addition to the Heartbreakers and various producers (notably Jimmy Iovine and Rick Rubin), numerous other prominent figures played a role in his life, such as (to name just a few) close friends Stevie Nicks, Jeff Lynne, Bruce Springsteen, and George Harrison. One of the reasons Petty has appeal (aside from his work with the Heartbreakers) is his work and friendship with these other musicians. For a nice little example of this, check out the performance at
George Harrison's induction into the Rock and Roll Hall of Fame
(2004), and a cat named Prince who makes an appearance around 3:29. Zanes of course also covers personal aspects of Petty's life, including his relationship with his first wife, Jane Benyo, his kids, and his second wife, Dana York. Zanes also chronicles Tom's depression and heroin use, and while that certainly is a large part of his story, it does not overwhelm the reader. It just seems to be an honest depiction and part of his story. As far as biographies go, this is one of the better ones. Zanes, Warren.
Petty: The Biography
. 2016. Print.