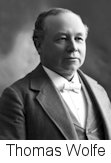 With the 2018 Primary Elections being held last week I thought it would be a good time to highlight a few former legislators whose photos are included in
Nebraska Memories
. When Nebraska became a state in 1867 it had both a Senate and House of Representatives. The four men whose photos appear in Nebraska Memories were all members of Nebraska's House of Representatives.
Thomas Wolfe (1877-1879)
Thomas Wolfe was born

in Germany in 1847. His family moved to Wisconsin shortly after his birth. He worked at a variety of newspapers including the
Tribune
in Chicago, the
Evening
Post
in New York, the
Republican
and the
Bee
in Omaha, and the
Nebraska Reporter
in Seward. In 1877 became president of the
Butler County bank
in David City. Thomas Wolfe was a member of the Nebraska House of Representatives from 1877 to 1879 representing Seward County. Thomas also served as the president of the Nebraska Press Association from 1879-1880. Thomas and his wife Madessa had three children
Leonel, Thomas Jr. and Medessa
.
Matt Miller (1885-1889)
Mat Miller was born in Scotland in 1850. He immigrated with his family to Wisconsin when he was two years old. Both of his parents died when he was eight leaving him and his three siblings as orphans. At the page of 14, Matt ran away an
d enlisted in the Union Army. He was discharged in 1866 and after completing high school and graduating commercial college, he moved to Burt County Nebraska. In 1879, Matt and his first wife Sarah moved to Schuyler and a year later Matt was admitted to the bar. In 1881, he moved to David City and practiced law in town for 42 years. Matt was elected to the House of Representatives and served from 1885 to 1889. Matt also went on to serve as judge for District 5 in Nebraska from 1891-1892.
Michael Delaney (1889-1891 & 1895-1897)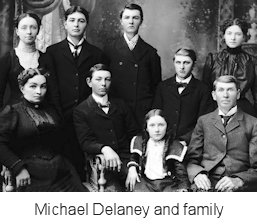 Michael Delaney was born in 1843 in New York. When he was two, his parents moved to Wisconsin. He later moved to Iowa where he was a teacher and a farmer. In 1872, he purchased a farm in Butler County Nebraska. In addition to serving as a member of the House or Representatives from 1889-1891 and 1895-1897 Michael held numerous other positions. Some of the positions he held included county superintendent of schools, school director for his district, a member of the Board of Supervisors and Justice of the Peace. Michael and his wife Katherine had seven children.
Henry C. Richmond (1915-1917)
Henry C. Richmond was born in 1870 in Missouri. As a child, his family moved to Kansas and later to Webster County Nebraska. Henry worked at a number of newspapers
including the
Red Cloud Chief
,
Omaha World-Herald
, and the
Fremont Daily Herald
. In 1907, he was elected president of the Nebraska Press Association. In 1911 and again in 1913 Henry was elected chief clerk of the Nebraska House of Representatives. Henry Richmond served as a member of the House of Representatives from 1915-1917 representing Douglas County. Following his term in 1917, he became the secretary for the Nebraska State Council of Defense. Henry passed away in May 1945 in Portland Oregon. According to his obituary, he and his wife Jeannette had two daughters and three grandchildren. Visit
Nebraska Memories
to search for or browse through many more historical images digitized from photographs, negatives, postcards, maps, lantern slides, books and other materials. Nebraska Memories is a cooperative project to digitize Nebraska-related historical and cultural heritage materials and make them available to researchers of all ages via the Internet. Nebraska Memories is brought to you by the Nebraska Library Commission. If your institution is interested in participating in Nebraska Memories, see
http://nlc.nebraska.gov/nebraskamemories/participation.aspx
for more information, contact
Devra Dragos
, Technology & Access Services Director.