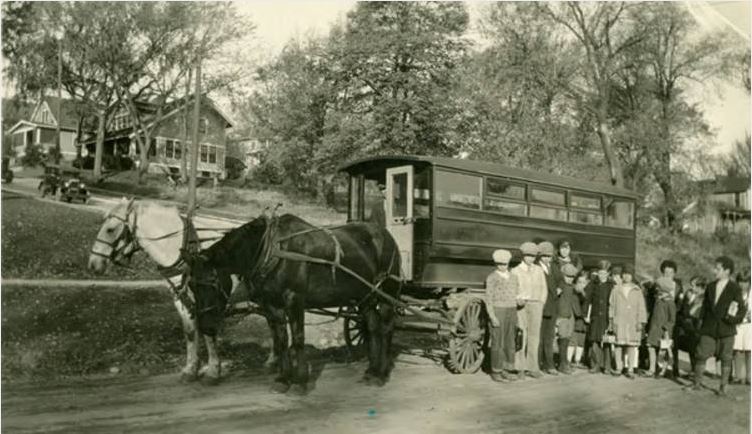 As children all over Nebraska are finishing up the school year we thought this throwback to 1931 was perfect. School buses have changed a little in the last 87 years.
This photograph was taken in front of the old Florence Elementary School at 8516 N. 31st Street by Dorothy Edwards, a teacher at the school. The Florence School bus was owned and driven by Sam Smith, shown standing just inside the door at the front of the wagon. The boy in the center carrying a book is Sammy Smith Jr., son of the driver. The tall boy on the far right, also carrying a book, is Billy Gale. His sister, Vivian Gale (Gast) is the curly-haired girl in the back row. Mrs. Gast stated that she and her brother had red hair. Mrs. Gast also stated the bus was painted a dark green with red trim; the door was yellow. The street where this picture was taken is still unpaved. The old Florence school was closed and torn down in the mid 1960s. It was replaced by the current Florence Elementary on N. 36th Street.
Historical materials relating directly to the Omaha Public Schools have been located in various departments and school buildings. Many schools still maintain their own collections. In 2003, staff from the Educational Research Library / Library Services received a small grant to begin collecting and organizing these materials in a central location. This group of pictures and their accompanying stories is but a tiny part of the District's over 150 year history.
Interested in Nebraska history? Find out more about this photo in the Nebraska Memories archive!
Nebraska Memories is a cooperative project to digitize Nebraska-related historical and cultural heritage materials and make them available to researchers of all ages via the Internet. The Nebraska Memories archive is brought to you by the Nebraska Library Commission. If your institution is interested in participating in Nebraska Memories, see http://nlc.nebraska.gov/nebraskamemories/participation.aspx for more information.