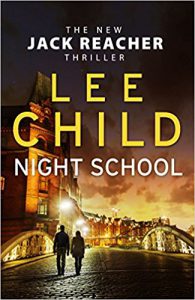 A member of my book group recently had us read
Night School
, the 21
st
entry in Lee Child's very successful Jack Reacher series. While I've often felt it can be more difficult to have good conversations about genre titles, I'm happy to report we found plenty to discuss. If you are a Lee Child reader, you know that the books feature Jack Reacher – a loner, drifting from place to place after mustering out of the Army in 1997 with the rank of Major.  He does not own a home, possess a driver's license, or collect federal benefits. The only item typically in his possession is a toothbrush and he never carries luggage of any sort.  In
Night School
, Child resets the clock and places Reacher back in the army as a military policeman – part of the fictional 110th Special Investigations Unit formed to handle exceptionally difficult cases. The book begins with Reacher receiving an award for completing a successful covert operation in the morning, and by the afternoon, he's reporting to night school. His classmates include an FBI agent and a CIA analyst, both of whom also recently completed successful covert operations. Wondering what this school is about they receive the following background briefing: "[A] Jihadist sleeper cell in Hamburg, Germany, has received an unexpected visitor—a Saudi courier, seeking safe haven while waiting to rendezvous with persons unknown. A CIA asset, undercover inside the cell, has overheard the courier whisper a chilling message:
The American wants a hundred million dollars
." From here, we follow Reacher and his classmates trying to determine what could be worth a hundred million dollars. On the Lee Child website, I found an article by Stav Sherez entitled "
Five reasons why the Jack Reacher novels are brilliant
." The fact is that even though the books are hugely popular, they often fail to garner much critical respect –as is often the case with series, genre books. The most discussable point of the article for me was that "…the Reacher books are Westerns in disguise and this goes a long way to explaining why they are so phenomenally popular…. Reacher is the classic silent stranger who rides into town and saves the small folk from rapacious bullies." I would have never thought of Child's books as westerns, but endings where
justice is served
are always satisfying. I asked my group if reading this series
in order
was essential and the answer was no.  Each book could be a standalone because each is uniquely episodic and Reacher's personal life does not change or progress dramatically from title to title. Similarly, plots for the Jack Reacher movies starring Tom Cruise have been cherry picked from the series based on those most suitable for cinema (
One Shot
#9 and
Never Go Back
#18), as opposed to series order.  We also discussed why people read series (and why some do not) and overwhelmingly series reader do not want to leave the character when others are perfectly happy to do so. When I asked if Jack Reacher could be someone they knew, all of the readers of the series said –
he is real to me
. As long as Lee Child continues to write, Jack Reacher remains safely in our group of literary friends. Child, Lee.
Night School.
New York
:
Delacorte Press, 2016