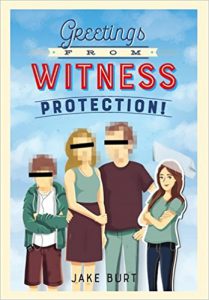 Do you ever dream about starting over? Leaving your old life behind, assuming a new identity and becoming a whole other person? Elena Sicurezza was a lawyer for a notorious crime family, the Cercatores. After testifying against the mob, she and her husband and son are placed into witness protection. The U.S. Marshals decide adding a daughter to the family will make them harder to find – after all, the mob is looking for 3 people, not 4. Enter Nicki Demure. 13 year old Nicki is in-between foster families, a ward of the state after her father went to prison and her grandmother passed away. As hard as she tries, she just can't seem to stick with any one foster placement – partially because she has a smart mouth and a bad habit of picking pockets, and also because she just knows her father will come for her as soon as he is paroled. But… Nicki learns that he has been released from prison and still hasn't shown up… two years later. So when a federal marshal offers her the chance to join a family going into hiding, she takes the plunge. So the Sicurezza family of New York become the Trevors of Ohio, and Nicki is transformed into their daughter Charlotte. The family is placed in North Carolina, where they try to lay low. Pick up this middle grade novel to see how Nicki/Charlotte handles Southern-belle mean girls, visits from gangster henchmen, and a new brother who is loathe to give up his only-child status. If you enjoy humorous realistic fiction, you'll love this story as much as I did! Burt, Jake.
Greetings From Witness Protection
. Feiwel & Friends, 2017. Print.