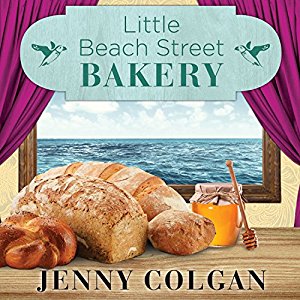 In her estimation, Polly Waterford is recovering from a failed life: a failed marketing business, a failed relationship,  and being homeless.  As a result, her life failures have led Polly to a small fishing village in Cornwall which is only accessible when the tide is out, and where she lives alone above an abandoned bakery, working out her frustrations by baking bread.
Her bread baking as an emotional release quickly becomes a passion, each loaf better than the last. Soon, Polly is experimenting with nuts and seeds, olives and chorizo, and the local honey–courtesy of a handsome local beekeeper with issues of his own.  With help from old friends and new, a puffin named Neil, and her amazing bread making skills, Polly builds a new life for herself.
There are three books in the Little Beach Street Bakery Series, by Jenny Colgan: Little Beach Street Bakery, Summer at Little Beach Street Bakery, and Christmas at Little Beach Street Bakery.  I listened to the first one, was immediately hooked, and then listened to the other two immediately.  I found the story location especially unique, the characters real and well developed, and the desire to bake bread overwhelming!  Enjoy!