I've had bad book luck lately.  Even titles that have won fancy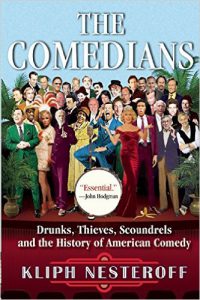 awards have left me feeling pretty unsatisfied.  But The Comedians broke my streak—this is a fantastic book, strong enough to be considered the definitive work on the subject.  Nesteroff starts off with comedy's beginnings in Vaudeville and progresses through the radio era, comedy clubs and cable specials, & sketch comedy and variety shows.  The title is not a rib—this is a serious, expansive history of comedy as an art form and business—and the treatment of the material might disappoint people who just want a laugh-a-minute romp.  But they'll be missing out if they skip this book.
The title is also not kidding about the "drunks, thieves, scoundrels"  part.    Early American comedy had strong links to seedy elements and there are numerous examples of that here—insult comics getting threatened by the Mafiosi sitting in the audience, people dying when cheap comedy clubs collapsed.  Beyond its chronicles of actual violence, The Comedians also devotes a fair bit of time to the "crying clown" idea and prevalence of addiction in comedy.  Some famous names come across as very broken people and a few emerge as basically forever-unhappy monsters.  Some of your favorites might seem a little tarnished after you read it and The Comedians occasionally gets gossipy in a Hollywood Babylon kind of way.  But, most of the time, it takes the high road and tells the story of the art form in a fun and engaging fashion.  It does for comedy what David J. Skal's epic The Monster Show did for the history of horror.
One of the most important things about the book is its championing of obscure comedians.  Everybody knows the Marx Brothers and Joan Rivers, but it was great to learn about people like Eddie Cantor and Fred Allen, especially at a time when radio-era comedy is instantly accessible through sources like the Internet Archive.  If a comedian is/was important, they're almost certainly here.  As I neared the end of the book, I was getting nervous that Andy Kaufman hadn't been mentioned yet, but The Comedians came through for me.  Because of the book's massive scope, nobody gets tons of spotlight time, but you'll finish this with a solid understanding of pretty much everything you'd ever want to know about American comedy.
Nesteroff, K. (2015). The Comedians Drunks, Thieves, Scoundrels, and the History of American Comedy. Pgw.