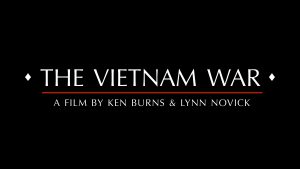 Ken Burns and Lynn Novick's ten-part, eighteen-hour documentary series,
The Vietnam War,
airs Sunday, September 17 through Thursday, September 21 and Sunday, September 24 through  Thursday, September 28 at 7:00 p.m. CT on PBS. Nebraska librarians are invited to take advantage of opportunities to host programs and exhibits in connection with the documentary. In an immersive narrative, Burns and Novick tell the epic story of the Vietnam War as it has never before been told on film, featuring testimony from nearly eighty witnesses, including many Americans who fought in the war and others who opposed it, as well as Vietnamese combatants and civilians from both the winning and losing sides. Learn more about the film at
http://www.pbs.org/kenburns/the-vietnam-war/home/
. Check out these opportunities:
Public libraries are invited to apply by August 1 to receive a programming kit for The Vietnam War, a ten-part documentary film by Ken Burns and Lynn Novick that will air on PBS stations. Fifty public libraries will be selected, through a competitive application process, to receive the kit, which will include a programming guide and a copy of the full 18-hour documentary series on DVD, with public performance rights. The kit will help libraries participate in a national conversation about one of the most consequential, divisive and controversial events in American history. Recipients will also receive promotional materials, online resources developed to support local programs, opportunities for partnership with local PBS station(s), and more. Participating libraries will be required to host at least one program related to the film before Jan. 1, 2018, along with other promotional and reporting requirements. View the full project guidelines: https://apply.ala.org/thevietnamwar/guidelines or begin your online application: https://apply.ala.org/TheVietnamWar. (ALA's Public Programs Office and WETA Productions.) See http://www.programminglibrarian.org/articles/apply-now-vietnam-war-programming-kit-opportunity. Contact: Sarah Ostman, Communications Manager, Public Programs Office, American Library Association, 312-280-5061, sostman@ala.org.
Nebraska libraries are invited to host programs, local panel discussions and conversations, screenings of a short version of the documentary, and exhibits in connection with the New Ken Burns Film: The Vietnam War. Libraries are encouraged to reach out to local veteran's organizations and other local groups to partner on activities leading up to the September 17 screening. Materials and resources will be available from the Nebraska NET website. See http://www.pbs.org/video/3001104790 for a highlight video and http://netnebraska.org/Vietnam for more information. NET is currently arranging for screenings (to be followed by a 45 minute panel discussion) in communities across Nebraska, see list at bottom of this message. Resources will soon be available to assist libraries in other communities in setting up local screenings and community conversations. Contact: Sandi Karstens, NET Communications Coordinator, 1800 N. 33rd St., Lincoln, NE 68503, 402-470-6578, skarstens@netnebraska.org.
If your book group hasn't read the 2015 One Book One Nebraska selection, this is the perfect time to suggest it. Death Zones & Darling Spies: Seven Years of Vietnam War Reporting by Beverly Deepe Keever was Nebraska's choice for the 2015 One Book One Nebraska statewide reading program and the Nebraska Library Commission has multiple copies for libraries across Nebraska to borrow. In this book, Beverly Deepe Keever describes what it was like for a farm girl from Nebraska to find herself halfway around the world, trying to make sense of one of the nation's bloodiest and bitterest wars. Support materials to assist with local reading/discussion activities are available at http://onebook.nebraska.gov/2015/get-involved.aspx. Order book club kits from the Nebraska Library Commission at http://nlc.nebraska.gov/ref/bookclub/index.asp or from the Regional Library Systems.
Nebraska NET Screenings and Discussion Locations Confirmed:
Lincoln, Omaha, Falls City, Ogallala, Hastings, Grand Island, North Platte, Fremont, Norfolk, and Scottsbluff. For more information contact Mary Jo Ryan, Nebraska Library Commission, maryjo.ryan@nebraska.gov.