Media Contacts:
Terry Severson                               Jana Langemach Director of Marketing                    Director of Communications First National Bank                        Nebraska State Treasurer's Office
tseverson@fnni.com
Jana.langemach@nebraska.gov
402-602-6549                                 402-471-8884
NEST 529 College Savings Encourages Nebraska Children, Teens to Embrace Summer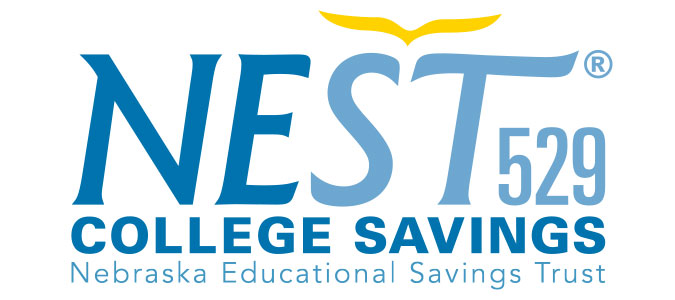 Reading
Read to Win $529! Drawing to Award 15 Summer Readers with $529 Each in College Savings
Lincoln, Neb.
(May 10, 2017) – First National Bank of Omaha, Nebraska State Treasurer Don Stenberg and the Nebraska Library Commission today announced the Read to Win $529! Drawing, which will award 15 Nebraska children and teenagers each with a $529 contribution to a NEST 529 College Savings account. Each winner's respective library branch will receive $250. "The Read to Win Drawing adds to the already countless benefits of reading," said Treasurer Stenberg, Trustee of NEST. "This drawing invests in 15 Nebraska children and in libraries across our state that assist and engage kids and their local communities." Beginning May 15 and ending August 23, a child or teen between the ages of 3 and 18 who registers for the Nebraska Summer Reading Program at a local library and who completes local requirements for the program will be automatically entered in the drawing. "Nebraska public libraries' summer reading programs are great opportunities for children and teens to take time to enjoy reading while maintaining and improving reading skills. They can also enjoy the many activities that are part of this year's Build a Better World summer reading program," said Nebraska Library Commission Director Rod Wagner. "As places for learning, libraries are a natural partner for NEST—helping to illustrate the importance of children and their parents setting aside money for college education. The Nebraska Library Commission is pleased to join with the Nebraska State Treasurer, First National Bank of Omaha, Regional Library Systems, and Nebraska public libraries to promote lifelong learning, financial education and planning," Wagner said. "This is our third year partnering with the Nebraska Library Commission, and we are thrilled to continue our joint mission to motivate our state's children and teens to prepare for college—both academically and financially," said Deborah Goodkin, Managing Director, Savings Plans, First National Bank of Omaha. "We encourage children and teens to participate and look forward to rewarding 15 summer readers with savings that will advance their educations." On or about September 15, 2017, five winners from each of Nebraska's three U.S. Congressional Districts will be chosen in a random drawing. For complete scholarship contest rules and regulations, visit
www.NEST529.com
and click on Grow. Then select Scholarships & Rewards. Contest rules also are available at
https://treasurer.nebraska.gov/csp/scholarships/
. For more information on the Nebraska Summer Reading Program, visit the Nebraska Library Commission's website at
http://nlc.nebraska.gov/youth/summerreading/
or contact a local library. To find out more about NEST College Savings Plans, visit 
www.NEST529.com
 or
treasurer.nebraska.gov
.
About NEST
NEST is a tax-advantaged 529 college savings plan and provides four plans to help make saving for college simple and affordable: NEST Direct College Savings Plan, the NEST Advisor College Savings Plan, the TD Ameritrade 529 College Savings Plan, and the State Farm College Savings Plan. The Nebraska State Treasurer serves as Program Trustee. First National Bank of Omaha serves as Program Manager, and all investments are approved by the Nebraska Investment Council. Families nationwide are saving for college using Nebraska's 529 College Savings Plans, which have more than 249,000 accounts, including 75,000 in Nebraska. Visit 
NEST529.com
 and 
treasurer.nebraska.gov
 for more information.
About First National Bank of Omaha
First National Bank is a subsidiary of First National of Nebraska. First National of Nebraska is the largest privately owned banking company in the United States. First National and its affiliates have more than $21 billion in assets and 5,000 employee associates. Primary banking offices are located in Nebraska, Colorado, Illinois, Iowa, Kansas, South Dakota and Texas. Investments Are Not FDIC Insured* – No Bank, State or Federal Guarantee – May Lose Value *Except the Bank Savings Individual Investment Option # # #