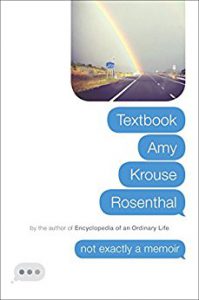 I first encountered Amy Krouse Rosenthal's work when I was shopping for a baby book, back in those pre-kid days when I could still leisurely shop. The
pale yellow book
I chose was quirky and funny, with just enough sarcasm to balance out the preciousness that is the first year of your kid's life.  (Amy created several guided journals, and she was also a prolific children's book author; one of her better known titles is
Duck! Rabbit!)
Her latest "grown-up" title,
Textbook Amy Krouse Rosenthal
, came out on August 9th, 2016. On September 6th, 2016,
Amy was diagnosed with ovarian cancer
.  She passed away
just last month
on March 13th, 2017. I'd had this book on my to-read list for a while, and I wish I'd read it sooner. It is a follow up to her 2005 memoir,
Encyclopedia Of An Ordinary Life
; she comments that it was only appropriate to follow an encyclopedia with a textbook.  It is a short, fast read, with lots of white space. The book was meant to be "interactive"; Amy offers a cell phone number readers can text, so that at certain points in the book you can send her notes and photos and maybe even win a freshly-baked pie. Texts sent while Amy was alive were kept and added to the
book's website
. Amy writes of moments, of everyday occurrences.  She makes the mundane experiences we all have seem both hilarious and absolutely heartbreaking. She talks of how fleeting life is and how, even if she were to live to 80, the number of times she could cut up an apple, or look at her children, wouldn't be enough. There was no way she could have known, as she was writing those words, how small that number would become. There is no way for any of us to know, and I'm trying to remember that every day and live by her words: "Make the most of your time here." If you are already an "AKR" fan, tomorrow (April 29th) would have been her birthday.  There is a Facebook group,
#MoreForAKR,
that you can check out if you'd like to pay tribute to Amy's memory this weekend with acts of kindness.