During the first week of March, three Nebraska Public Libraries had a unique  experience, participating in  kick-off site visits for a pilot program funded by a Laura Bush 21st Century Librarian Program grant from the Institute for Museum and Library Services (IMLS). The grant was awarded to Internet2®, a member-owned advanced technology community founded by the nation's leading higher education institutions in 1996. Internet2® provides a collaborative environment for U.S. research and education organizations to solve common technology challenges and to develop innovative solutions in support of their educational, research, and community service missions.
Public library directors and staff in the Nebraska communities of Valley, Walthill, and Wymore each spent an afternoon with two state employees who are the technical advisors for the site visits to the five Nebraska libraries. Library staff and technical advisors examined the details of each library's broadband profile. Susannah Spellman from Internet2® participated in site visits to the public libraries in Valley and Wymore. Susannah said, "We are delighted to partner with the Nebraska Library Commission and Network Nebraska to pilot the IMLS-funded Broadband Toolkit. Being able to leverage the library technology expertise of the Nebraska Library Commission, especially from their Library Broadband Builds Nebraska Communities BTOP grant, and the broadband and E-Rate expertise of Network Nebraska delivers an even more powerful learning experience for the library staff involved in the pilot."
The Toolkit is designed to help library staff assess and evaluate their library's broadband connection. Topic areas include: how broadband is delivered to the library; the library's broadband provider; and infrastructure details including inside wiring, types of devices connecting the libraries network, age of wiring and devices, and reliability of the library network (availability and speed). The Toolkit includes links to online resources and a glossary to help guide the staff through the assessment activities. As staff work through the assessment with the technical advisors, they identify quick fixes and long-range plans that are summarized in a customized Broadband Improvement Plan for the library.
All three of the pilot libraries appreciated having an opportunity to learn about the status of the broadband in their libraries and identify improvements that can be made immediately (and in the long term) to better serve the library and their community
"The information in the Toolkit that we received will help us learn and prepare to become a bigger and better community hot spot. We were presented with resources, hands-on demos, suggestions, and best of all—a timeline to accomplish what will help us improve and be a better asset to our community," said Janet Roberts, Library Director, Wymore Public Library.
Additional site visits are planned for the public libraries in Atkinson and Gering at the end of March.
______________________________________________________________
Internet2® was awarded a Laura Bush 21st Century Librarian Program grant of $248,725 from the Institute for Museum and Library Services (IMLS).  Internet2® will pilot a project to develop a broadband network assessment Toolkit and training program for rural and tribal libraries in partnership with the Association of Tribal Archives, Libraries, and Museums; the American Library Association; the Association of Rural and Small Libraries; the Chief Officers of State Library Agencies; and Internet2® member research and education networks. The pilot will include more than thirty library practitioners in at least 30 rural public and tribal libraries across five states, Alaska, Idaho, Kansas, Nebraska, and Oklahoma. The Toolkit will provide training for librarians to advance their understanding of and advocacy for broadband infrastructure in their libraries and will be developed to address library-specific broadband technology and infrastructure needs.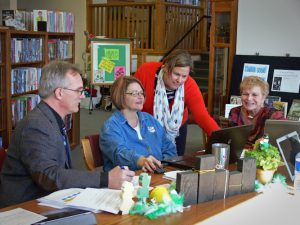 (l-r) Tom Rolfes, State of Nebraska Office of the Chief Information Officer; Janet Roberts, Wymore Public Library Director; Susannah Spellman, Internet2®, Holly Woldt, Nebraska Library Commission.