Before the advent of grocery stores, people produced much of their food. Although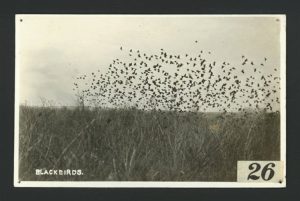 gardens and livestock supplied staples such as vegetables, milk and bacon, many settlers looked to hunting to supplement their diets as well as provide some much needed cash from the sale of pelts. Nebraska Memories not only features postcards and photographs birds and game, but of people posing with their rifles and the fruits of their labors as well.
While the blackbirds featured in the above image may not have been intended for dinner,  you can almost imagine a bird hunter eagerly awaiting their flight so that they might snag a bird or two to add to their collection. Take this photographic postcard from
Wheeler County. It shows a hunter, with his trusty hunting dog, firing at several game birds. Chances are, these birds were destined for the family dinner table and the tail feathers used to decorate a hat.
In addition to shooting game birds, Nebraskans hunted other animals, such as coyotes. After 1860, fur traders saw the value of coyote fur pelts increase from almost nothing to a few dollars or more per pelt. Coyote pelts could not be used as rugs, but they could be made into coats, jackets and hats. As such, they most likely became a source of income for many people.
Additionally, ranchers disliked coyotes because they attacked sheep and cows. The couple featured in this postcard may have shot coyotes in order to harvest their fur or they may have been helping ranchers protect their livestock. 
Not all photographs focus on potential targets or an expedition's results. Some images are of the hunters themselves. This photographic postcard not only features four hunters posing with their shotguns, but three dogs can be glimpsed as well. While two of the three dogs are not visible clearly, the third one sits at his master's feet, ready for action. Okay, maybe not. But bird hunters relied on dogs such as pointers, spaniels, setters, and retrievers to fetch downed birds. Despite their somewhat casual stances, I do not doubt the abilities of these hunters or their dogs.
Undoubtedly, hunting enabled many families to survive the often harsh and rugged Nebraska plains. A settler with a good shot gun could provide food, warm clothing or bedding in the form of fur pelts and cash from the sale of game or pelts. Hunting also helped protect livestock from predators like coyotes.
Visit Nebraska Memories to search for or browse through many more historical images digitized from photographs, negatives, postcards, maps, lantern slides, books and other materials.
 Nebraska Memories is a cooperative project to digitize Nebraska-related historical and cultural heritage materials and make them available to researchers of all ages via the Internet. Nebraska Memories is brought to you by the Nebraska Library Commission. If your institution is interested in participating in Nebraska Memories, see  http://nlc.nebraska.gov/nebraskamemories/participation.aspx for more information, contact Dragos Devra Technology  &  Access Services Director.