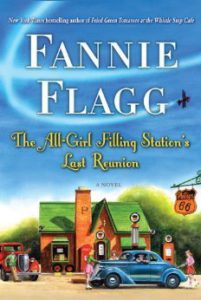 I grew up knowing Fannie Flagg from the '70s game show Match Game. Knowing of my love for books and movies, my Southern Uncle took me to visit Juliette, Georgia the actual film location of Fried Green Tomatoes (based on the book of the same name by Fannie Flagg) where a Whistle Stop Café actually exists and operates.  I have thought of Fannie as a comedic personality but having read nearly all of her books, she has a knack for balancing humor with poignant story lines and creating very memorable, sometimes outrageous characters and plots. Fannie weaves two stories from different families together in this novel. In the first chapter we are introduced to Mrs. Earle Pool Jr., better known to her friends and family as Sookie. Sookie is happily married with four children and a loving husband but unfortunately is burdened with an extraordinarily difficult, high-maintenance mother named Lenore, all living in Alabama in 2005. We are taken back to 1909 Pulaski, Wisconsin and the Jurdabralinsky family. The patriarch, Stanislaw Ludic Jurdabralinsky, emigrated from Poland and he struggles to make a new home for his wife and children by opening a Filling Station that operates with roller skating daughters during WWII. Meanwhile back in 2005, Sookie receives a mysterious registered letter from the Texas Board of Health that puts her identity and her mostly quiet life into a tailspin. The collision of the two stories makes for a delightful read, ending with a twist
upon
a twist. The great takeaway of this book for me was learning about the daughters from the Jurdabralinsky family who served in World War II as Women Airforce Service Pilots – WASP for short.
"During the existence of the WASP— 38 women lost their lives while serving their country.  Their bodies were sent home in poorly crafted pine boxes.  Their burial was at the expense of their families or classmates. In fact, there were no gold stars allowed in their parents' windows; and because they were not considered military, no American flags were allowed on their coffins.  In 1944, General Arnold made a personal request to Congress to militarize the WASP, and it was denied.  Then, on December 7, 1944, in a speech to the last graduating class of WASP, General Arnold said, "You and more than 900 of your sisters have shown you can fly wingtip to wingtip with your brothers. I salute you … We of the Army Air Force are proud of you. We will never forget our debt to you." With victory in WWII almost certain, on December 20, 1944, the WASP were quietly and unceremoniously disbanded.  What is amazing is that there were no honors, no benefits, and very few "thank you's".  In fact, just as they had paid their own way to enter training, they had to pay their own way back home after their honorable service to the military.  The WASP military records were immediately sealed, stamped "classified" or "secret", and filed away in Government archives, unavailable to the historians who wrote the history of WWII or the scholars who compiled the history text books used today, with many of the records not declassified until the 1980s."
taken from:
http://www.birdaviationmuseum.com/WASPS.html
This year I read books by Gloria Steinem and Ruth Bader Ginsberg – both advocates for women's rights; and while Fannie Flagg writes another kind of book, this title fit in nicely and was a great selection for my book club with many things to discuss. If you enjoy audio books, please consider listening to this book as Fannie Flagg is the narrator. I think you'll enjoy her comic southern accent and stereotypical Wisconsin accent both of which made me laugh many times.