The summer I turned ten, my family drove from Montana to northern California to visit my grandparents. My dad put me in charge of plotting our route. This was pre-GPS. I actually had to look at the road atlas. Unfortunately, my dad rejected many of suggestions. I think it had something to do with the fact that some of them would have taken us through North and South Dakota, Wyoming, Utah and Colorado – not exactly the most direct way to travel from Montana to California. Regardless, I found I enjoyed looking at maps. Something I still like to do.
Maps do more than tell us how to get from one place to another. Depending on the map, they can convey information
 like elevation, land use, socio-economic levels. If they are maps of bodies of water, they mark the locations of navigational hazards, ship wrecks and water depth. In some cases, we can use maps to show how rivers have changed their course over time or the evolution of land use in an area. Nebraska Memories features several maps and an atlas or two.
Maps depict more than geography. Some focus on the mundane and the ordinary, such as city planning. For example, this map of Omaha from 1866 shows the city laid out in a grid pattern. While the city blocks are numbered, individual owners are not named. With a little help from a Polk Directory and/or the Census, you could figure out who lived where. Regardless, this map provides us with plenty of information — it shows the location of Nebraska's first capitol building at Twentieth and Dodge Streets. It also tells us the Omaha experienced some flooding during its early years. How do I know? The map marks the locations of several levees along Omaha's eastern boundary. Also, the cemeteries are located on the western edge of Omaha, far from the Missouri River.
Speaking of the Missouri River,  two atlases chart the course of the Missouri River from its mouth to its source in Three Forks, Montana.  Both the Map of the Missouri River from its Mouth to Three Forks, Montana and the Map of the Missouri River from surveys made, in accordance with acts of Congress approved June 18, 1878 and March 3, 1879 under the direction of Major Chas. R. Sutter show an amazing amount of detail.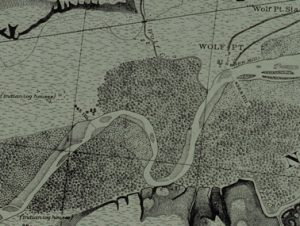 These maps plot the locations of islands, sandbars, vegetation, the locations of previous channels and much, much more. The Map of the Missouri River from its Mouth to Three Forks, Montana also notes  Indian settlements, wood yards, and large ranches. Since the maps are drawn as though you are looking at them from above, it's like looking at the nineteenth-century version of a Google map.
Maps, like old photographs and postcards allow us to travel into the past. We not only see how rivers have changed course or how cities have evolved, we catch a glimpse of what mattered to the mapmakers. Since the Missouri River was a major transportation route, these mapmakers were focused on documenting navigational hazards, woodlots, and Indian settlements. They wanted to ensure that riverboats would be able to navigate safely, as well as resupply as necessary. Looking back on that long ago road trip to California, the maps we used may not have contained the same sorts of information as the ones found within Nebraska Memories, but they provided us with the information we needed.
Visit Nebraska Memories to search for or browse through many more historical images digitized from photographs, negatives, postcards, maps, lantern slides, books and other materials.
Nebraska Memories is a cooperative project to digitize Nebraska-related historical and cultural heritage materials and make them available to researchers of all ages via the Internet. Nebraska Memories is brought to you by the Nebraska Library Commission. If your institution is interested in participating in Nebraska Memories, see http://nlc.nebraska.gov/nebraskamemories/participation.aspx for more information, contact Devra Dragos, Technology & Access Services Director.