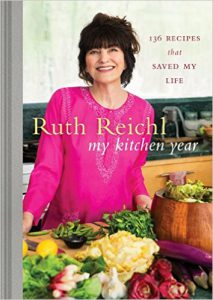 I first read Ruth Reichl (pronounced RYE-shil) when I selected the book
Tender at the Bone: Growing Up at the Table
for my book group several years ago. I knew Reichl had been a food critic, but wasn't aware of her connection to
Gourmet
magazine until I heard of its demise in 2009. Reichl was the editor of
Gourmet
when it came to the tragic end of its 69 year run. This book recounts her grief in the aftermath, during the days and months as she moved beyond job loss. Some of us turn to food for emotional reasons and Ruth returned to her kitchen as her way of healing, pairing food with personal events, and an honest and very personal dialog of working through change.  I agree with a statement in her introduction: "…recipes are conversations, not lectures."  It registered with me because I've usually considered recipes more like guidelines as I negotiate the ingredients and their amounts.
For those who love cookbooks, photos are an absolute must. In this book, the pictures are informal and homey, supporting the intimacy of her diary format. She begins each daily entry with a tweet to her very active twitter followers who also serve as part of her support.  If you prefer the audio edition, Ruth narrates and she is an author who is genuinely meant to read her own material. You might think that listening to someone read 136 recipes would be a bit banal but Ruth is a genuine story teller and her throaty alto voice is as much of a comfort as the recipes she prepares. As Ruth says: "…I finally understand why cooking means so much to me. In a world filled with no, it is my yes."
Not your ordinary cookbook – it's like spending time with someone who likes food just as much as you – at the market, in the kitchen or at the table. Ruth chronicles four seasons of food and recovery in the kitchen, transforming from broken to hopeful. I've read other books of hers, but this one particularly stands out for me. It also makes a terrific gift for the food lover in your life.