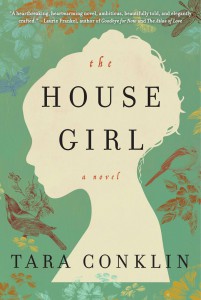 From Amazon:
"The House Girl,
the historical fiction debut by Tara Conklin, is an unforgettable story of love, history, and a search for justice, set in modern-day New York and 1852 Virginia.? Conklin's use of alternating chapters weaves together "the story of an escaped slave in pre–Civil War Virginia, and a determined junior lawyer in present-day New York City.
The House Girl
follows Lina Sparrow as she looks for an appropriate lead plaintiff in a lawsuit seeking compensation for families of slaves. In her research, she learns about Lu Anne Bell, a renowned prewar artist whose famous works might have actually been painted by her slave, Josephine."  While retracing Josephine's often-elusive path, she also uncovers some troubling facts about her own life and parents, and the startling lie that formed the basis of her childhood and young adulthood. I started listening to
The House Girl
on audio, then was so caught up by the story, that I checked out the book from Lincoln City Libraries.  Definitely a good read!