According to my coworker, cats rule and dogs drool. I'm not sure I agree with him but don't tell him that. He is one of many cat lovers who work at the Library Commission. If you work with a cat lover, are friends with a cat lover or are a cat lover yourself you probably see or are sent cute cat pictures and videos on a regular basis. The internet is full of cat related pictures and videos and social media has made it easy for folks to share their favorites.

People taking pictures of their cats is nothing new. In
Nebraska Memories
, I found 11 photos that included at least one cat. Photographer John Nelson took pictures of his nieces
Alice, Mildred
,
Eda
and
Henrietta
all holding cats or kittens. You can't go wrong with pictures of kids with cats.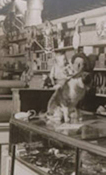 John Nelson also took a picture of a cat in a
hardware store
. I find it amusing to see the cat sitting on top of the glass display case. I'm not sure if he intended for the cat to be the focus of the picture but the cat is more visible then the humans in the picture.
The other photos in Nebraska Memories that included cats were taken by William Wallace. William Wallace served as a vice president for the Omaha National Bank for many years, and it appears he was also an avid photographer.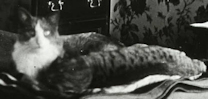 It's obvious that William meant for the cats to be the focus of his pictures. I'm guessing that the cats might have ruled the house. The cat looks content
lying on the family's kitchen table
. Because the photos are black and white, it's hard to tell if the cat on the table is also one of the
cats sleeping on the bed.
Do you think the cat on the bed
with the white fur on his face and neck is the same
cat playing on the banister
? Are they the same cats that are providing entertainment in
these three pictures
taken in the Wallace's library?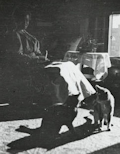 Visit
Nebraska Memories
to search for or browse through many more historical images digitized from photographs, negatives, postcards, maps, lantern slides, books and other materials. Nebraska Memories is a cooperative project to digitize Nebraska-related historical and cultural heritage materials and make them available to researchers of all ages via the Internet. Nebraska Memories is brought to you by the Nebraska Library Commission. If your institution is interested in participating in Nebraska Memories, see
http://nlc.nebraska.gov/nebraskamemories/participation.aspx
for more information, contact
Devra Dragos
, Technology & Access Services Director.