On the third Monday in February, the state of Nebraska celebrates President's Day. The name of this holiday varies across the United States. While we call it President's Day the federal government officially calls it Washington's Birthday. It wasn't until I read the Wikipedia article about
Washington's Birthday
that I realized how many different names this holiday has been given. Some states celebrate both Washington's and Lincoln's birthdays and have named the holiday to include both of their names. Even those states that call it President's Day disagree on the spelling. It is spelled Presidents' Day, President's Day, or Presidents Day depending on the state. No matter how you spell it I thought this would be a perfect time to highlight the images of three US Presidents that are included in Nebraska Memories.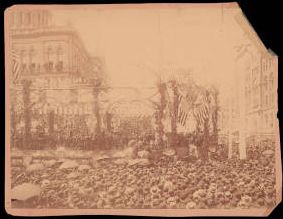 President Benjamin Harrison was the 23rd President. He was in office from 1889-1893. If you would like to read more about President Harrison the White House website provides a nice
biography
on all of the Presidents. As you can see in the photo to the right, a large crowd of people turned out to see President Harrison on May 13, 1891 in downtown Omaha. If you would like to know more about this event, I suggest you do what I'm guessing many people did at that time and read about it in the newspaper. The Library of Congress's project Chronicling America Historic American Newspapers provides access to many digitized newspapers from across the country. In the May 14, 1891 issue of the
Omaha daily bee
there are multiple articles telling about the six hours President Harrison spent in Omaha. You can read all about his visit on the
Chronicling America website
.
President Theodore Roosevelt
was the 26th President.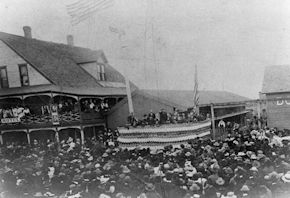 He was in office from 1901-1909. The picture at the left shows Roosevelt on October 1, 1900 in
Holdrege
. At this time, he was campaigning for the Vice Presidency. Roosevelt returned to Nebraska in 1912. The photos from
Holdrege
and
Fremont
both show Roosevelt standing on the back of a train car. I'm assuming these appearances were part of his campaign for the 1912 presidential election.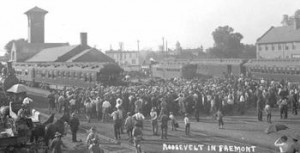 President William Howard Taft
was the 27th President. He was in office from 1909-1913.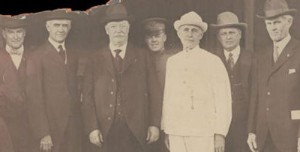 We have two photos of President Taft in Nebraska Memories. In
this picture
, he is standing with a number of prominent Omaha gentleman. Unfortunately, the exact date and location of this picture was never documented so we don't know it was taken. The other picture shows the
President riding in a car
as part of a parade. We know that this picture was taken on September 21, 1909 at the inters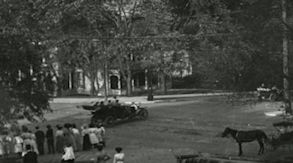 ection of 20th and Davenport Streets in Omaha. If you would like to read more about Taft's visit the
Omaha daily bee
covered his visit. Visit
Nebraska Memories
to search for or browse through many more historical images digitized from photographs, negatives, postcards, maps, lantern slides, books and other materials. Nebraska Memories is a cooperative project to digitize Nebraska-related historical and cultural heritage materials and make them available to researchers of all ages via the Internet. Nebraska Memories is brought to you by the Nebraska Library Commission. If your institution is interested in participating in Nebraska Memories, see
http://nlc.nebraska.gov/nebraskamemories/participation.aspx
for more information, contact
Devra Dragos
, Technology & Access Services Director