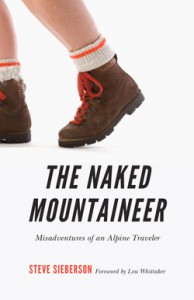 Steve Sieberson is a world traveler – and a mountaineer. His law career has taken him to numerous foreign places. His expertise in international business has included lecturing and advising. In 2006 he joined the Creighton University Law School faculty. Sieberson's writing includes a recent textbook on international business contracting. But for those of us not closely connected to international business his book on mountaineering is a much more interesting read. I met Steve Sieberson and his wife Carmel at an Omaha Public Library book event. It was there that I picked up a copy of his book,
The Naked Mountaineer: Misadventures of an Alpine Traveler
(University of Nebraska Press). Outside of his years as a practicing attorney and international businessman, Sieberson developed a passion for mountaineering. A family trip one summer from his rural home in northwest Iowa to Colorado began his lifetime fascination with high elevations. From there he read books on mountaineering, books that he found at his local library. His boyhood fascination has endured through his adult years. Sieberson's move to Seattle and his many years there provided the proximity to enjoy his passion for the mountains of the Pacific Northwest. During his years in Seattle he was a member of Seattle Mountain Rescue and the Mountaineers organization.
The Naked Mountaineer
is a delightful commentary on Sieberson's global travels and opportunities to climb many of the world's highest and most challenging mountains – the Matterhorn, Mount Agung, Mount Fuji and many more. Especially enjoyable are his commentaries about his experiences as a climber – the places, the people, and the customs. His passion and his good humor are found throughout his book.